The third Concorde built, and the fastest ever!
Concorde was the world's only successful supersonic airliner. It cruised at more than twice the speed of sound, at Mach 2.04 (2,180 km/h or 1,354 mph at cruise altitude) with seating for 92 to 128 passengers. First flown in 1969, Concorde entered service in 1976 and continued flying for the next 27 years. It is one of only two supersonic airliners to have flown commercially. The other, the Soviet Tupolev Tu-144, although it first flew two months before Concorde, suffered from several technical and operational problems and flew only 55 passenger flights in 1977/8 before being taken out of passenger service – it continued to operate cargo flights until 1983.
The origins of Concorde in the UK were early studies conducted at the Royal Aircraft Establishment, at Farnborough, that led to the "slender delta" concept on which the Concorde's wing is based. In 1956 the 'Supersonic Transport Advisory Committee' (STAC) was formed to progress the development, leading to the Bristol 223 design proposal. Simultaneously, the French company Sud Aviation had developed the 'Super Caravelle' design, very similar in principle to the Bristol 223. Because of the similarity between the two designs and the very high anticipated development costs a joint development was proposed, and on 29 November 1962 an agreement was signed between Bristol (by now part of the British Aircraft Corporation) and Sud Aviation (later Aerospatiale) to design and build the aircraft. The final design had a modified slender delta 'ogival' wing shape and four Rolls-Royce/Snecma Olympus 593 engines with reheat.
The most tested aircraft in history
Supersonic flight had hitherto been exclusively military, where aircrew and machines can tolerate conditions that would be wholly unacceptable to airline passengers. A supersonic airliner was thus an immense design and engineering challenge. Because of all the novel technical concepts employed in Concorde, an exceptional level of testing was required, both on the ground and in the air. Concorde is probably the most tested aircraft in history: the first six aircraft built never carried paying passengers but completed more than 5,000 hours of test and certification flying.
The project was an extraordinary example of international co-operation. Half the plane was designed and built in France and half in Britain. Major modules were built in Bristol or Toulouse and then shipped for final assembly in either location. The French worked in centimetres and millimetres, the British in feet and inches. Remarkably, when the French and British components were assembled, everything fitted!
Construction of two prototypes began in February 1965 and the first, designated 001, assembled by Aérospatiale in Toulouse, made its first flight on 2 March 1969 and first went supersonic on 1 October. The first UK-built Concorde, 002, flew from Filton on 9 April 1969 and first achieved supersonic speed on the 25 March 1970. Two pre-production models were built, 101 (G-AXDN) in Britain and 102 in France. 101 was the first to have the digitally-controlled air intake system that was so critical to Concorde's performance, and 102 was the first with the dimensions and final shape of the production aircraft. Two further development aircraft, 201 and 202, were used mainly for the final certification trials and for route-proving flights.
Commercial interest
Concorde attracted wide international interest, and by the time of the first flight 74 options had been taken by 16 airlines. As time passed, however, concerns about environmental issues such as the sonic boom, noise and air pollution – some unfounded – had influenced public opinion such that many of these initial options were cancelled. Furthermore, costs had spiralled during development to more than six times the original estimates, to a unit cost of £23 million in 1977 (equivalent to £158 million in 2018). The price of fuel had also escalated. There was also a realisation that overland flights would be severely limited because of public objection to sonic booms.
Eventually, only British Airways and Air France, both with assistance from their governments, purchased Concorde fleets: each had seven aircraft, but Air France were to lose two in accidents. British Airways began scheduled services from London to Bahrain on 21 January 1976 and Air France from Paris to Rio de Janeiro via Dakar on the same date. The potentially lucrative North American routes, however, failed to materialise, mainly due to local resistance on noise grounds. Eventually these objections were overcome, and both British Airways and Air France started services from London and Paris to New York's John F Kennedy airport on 22 November 1977. From December 1978 to May 1980, American airline Braniff International Airways became the only American Concorde operator by leasing 11 Concordes, five from Air France and six from British Airways, for flights between Dallas-Fort Worth and Washington Dulles, flown by Braniff flight crews. Because of sonic booms, these flights were subsonic, and Air France and British Airways crews took over for the continuing supersonic flights to London and Paris. The flights were not profitable and typically less than 50% booked, and Braniff ended the arrangement in 1980. From March 1984 until March 1991, British Airways flew three times a week form London to Miami via Washington. Dulles International Airport. Air France and British Airways continued to operate the New York services daily until 2003. Several tour companies also chartered Concorde for flights to various destinations – regarded as lucrative by both airlines.
The Paris tragedy
On 25 July 2000, Air France Flight 4590 from Paris Charles de Gaulle to New York crashed on take-off killing all 109 on board and 4 on the ground. All Concordes were immediately grounded pending an investigation. According to the official investigation, the crash was caused by a metallic strip that had fallen from a Continental Airlines DC-10 that had taken off minutes earlier. This punctured one of Concorde's tyres which then exploded and a piece of tyre rubber hit and punctured a fuel tank, leading to a catastrophic fire and loss of control. This conclusion is still disputed by some. Following the crash, British Airways Concordes were modified with explosion-proof tyres and Kevlar linings in the fuel tanks. Air France decided not to modify their aircraft, but both BA and Air France resumed commercial flights to New York on 7 November 2001.
A popular view is that the Paris crash led to the demise of Concorde but while it was certainly a factor, its fate was ultimately decided by commercial and financial considerations. High fuel and maintenance costs were already worrying the airlines, but a major influence on the decision was the dramatic fall in passenger numbers following the '9/11' attack on the World Trade Centre in 2001. On 10 April 2003, Air France and British Airways simultaneously announced they would retire Concorde later that year. Airbus, the successors to BAC and Aerospatiale, then withdrew their commitment to maintain the aircraft, making it impossible for it to remain in or return to service.
Air France's last Concorde flight took place on 27 June 2003 and BA's on 26 November 2003, when G-BOAF landed at Filton, the last Concorde flight worldwide.
G-AXDN: The fastest ever
G-AXDN was originally designated Concorde 01, later changed to 101. It is the British pre-production version of Concorde, and the third Concorde built. It was assembled at the British Aircraft Corporation factory at Filton, Bristol, and was larger and of a more advanced design than the two prototypes. It also had a completely new nose section that incorporated a fully transparent visor to replace the metal ones fitted to the prototypes, which were not popular with the pilots and would not have been certificated by the American FAA because they provided very restricted vision. The new-profile nose section and visor was designed by Marshall of Cambridge. 101 was rolled out on 20 September 1971, and its first flight on 17 December was from Filton to Fairford, where the BAC Concorde Flight Test Centre was located.
Its main contribution to the Concorde test programme was proving the engines' variable intake control system, arguably the most important single piece of equipment on Concorde that enabled it to fly economically at supersonic speeds. No air-breathing engine can accept air entering it at supersonic speed, so when Concorde was supersonic the air entering the engines had to be slowed down to around 500 mph' This occurred in the 11-foot-long air intake by computer controlled adjustable ramps. As it slowed, the air was compressed, which improved the efficiency of the engines so that supersonic cruise could be maintained without using afterburners. This significantly reduced fuel consumption and is what made Concorde economically viable. In the course of testing the system, in March 1974 it achieved Mach 2.23, or approximately 1,450 mph, at an altitude of 63,700 ft, the highest speed recorded by any Concorde.
In November of the same year 101 flew from Fairford to Bangor, Maine, in 2 hours 56 minutes, a record time for a commercial aircraft flying across the Atlantic in a westerly direction. It spent a month at Moses Lake, Washington state, carrying out flights to prove the efficiency of the electrical de-icing system, which to meet CAA requirements had to be capable of melting off any accumulated ice up to two inches thick. For these tests, areas of the fuselage and the port wing surface were painted black to show up ice, miniature television cameras were fitted in various positions and an operator viewed the aircraft's exterior on a monitor in the cabin. 101 made a total of 11 flights from Moses Lake in search of conditions that would produce the required thickness of ice, and on 4 December it finally succeeded. With this test programme completed, 101 returned to Fairford on 13 December, recording the same flight time from Bangor as it did for the outward flight. It also conducted tropical icing trials from Nairobi, on the equator – icing conditions there can be more severe than at the poles! 101's achievements and the records it set during its test flying are recorded in the artwork on the fuselage.
The remainder of 101's flying career was spent at Fairford testing modifications designed to give airline Concordes improved performance and range. Its contribution to the Concorde flight test development programme ended on 16 May 1975, and it was then used for the training of BAC flight crews, whose job it was to instruct the British Airways pilots and flight engineers prior to the start of Concorde commercial services in January 1976. 101 remained at Fairford until the Test Centre eventually closed and was then flown back to Filton.
DN comes to Duxford
It had been announced in Parliament that the aircraft would be donated to Duxford Aviation Society when its test flying days were over, and it remained in a hangar at Filton awaiting delivery to Duxford. Filton was preoccupied with assembling Concordes for British Airways, and pressure had to be applied to get it to prepare 101 for its final flight, as construction work on the M11 motorway was getting ever closer to Duxford, and a quarter of the runway was due to be dug up to accommodate the new road. 101 was eventually flown to Duxford on Saturday, 20 August 1977 and just two days later, on Monday 22 August, 20 Aug 77 KB the motorway builders began work to shorten the runway.
101 spent almost 20 years of its time at Duxford on display outside and became a familiar landmark for people driving on the M11 and the A505. It was first opened to the public in March 1978 and has been the most popular single exhibit at the Imperial War Museum, Duxford ever since, with an estimated seven million visitors having walked through it. It is now housed in Duxford's AirSpace building, where several of its systems, including the iconic 'droop nose' have been reactivated with the help of Heritage Concorde, a group of ex-Concorde engineers. The flagship of the British Airliner Collection is normally open to the public every day that the museum is open, and provides visitors with a fascinating insight into the technical innovation that enabled airline passengers to experience supersonic air travel.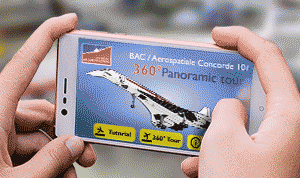 Get the Concorde App
Our new virtual tour of Concorde, both inside and out, is available now on the Apple Store or Google Play.
Explore this incredible, half-century old vision of the future in unprecedented detail. Look around in full 360° animation, or zoom in for information on flight deck instruments.
Just 99p puts you in the pilot's seat!