More flights in exotic aircraft
Added by Keith Bradshaw on 31 March 2020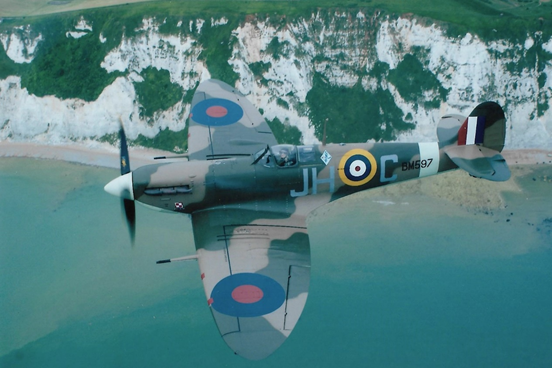 200 over and out
Regular readers among you will remember a series of articles about my quest to fly in as many different types of plane as possible. This started in 1962 as an eight year old having his first ever flight, in an Auster from North Denes near Great Yarmouth. For one reason or another the final article wasn't published so here it is with the run up to number 200, the final Spitfire flight.
As you can see from the picture above, I did a couple of flights with special pilots. A very memorable one was flying in a Dragon Rapide which an old colleague of mine had helped restore and flown by Captain Shona, a British Airways pilot whose Airbus I used to look after. Quite a BA reunion! The flight was at Old Warden and the subject for keen photographers was the Shuttleworth Trust Lysander flown by their Chief pilot at the time, Dodge Bailey. What a wonderful trip that was with the Lysander flying in a number of different positions off our wing and a glass of Champagne on landing .
First and last flights were also good hunting grounds for the joyrider. When airlines buy a new long haul type they often put it on short haul routes for a couple of weeks for crew and ground staff training. This is a perfect chance to fly cheaply around Europe on an aeroplane that would in the future spend all its time flying long haul. This is exactly what happened when Air France introduced the first flights of the A380 super jumbo using it on the London-Paris run. LOT Polish Airlines became the first European airline to operate the Boeing Dreamliner and I used the chance of a short flight on this all-composite aeroplane to spend the day in Warsaw.
Shortly afterwards, Finnair became the first European operator of the Airbus A350 so Helsinki beckoned for the day. A similar flight on a Swiss Bombardier CS100 took place from Zurich to Paris. Swiss were the first operators in the world to put the CS100 into service and at the time only had one aeroplane. Interestingly when Airbus later took a majority stake in Bombardier they renamed the C Series jet the Airbus 220! Another first was with Irish airline Cityjet, the first western operator of the Russian built Sukhoi SJ100 Superjet. They had leased their new aeroplanes to Brussels Airlines who were flying the Birmingham-Brussels route. Very nice aeroplane, very western. In fact it was hard to believe it was designed and built in Russia.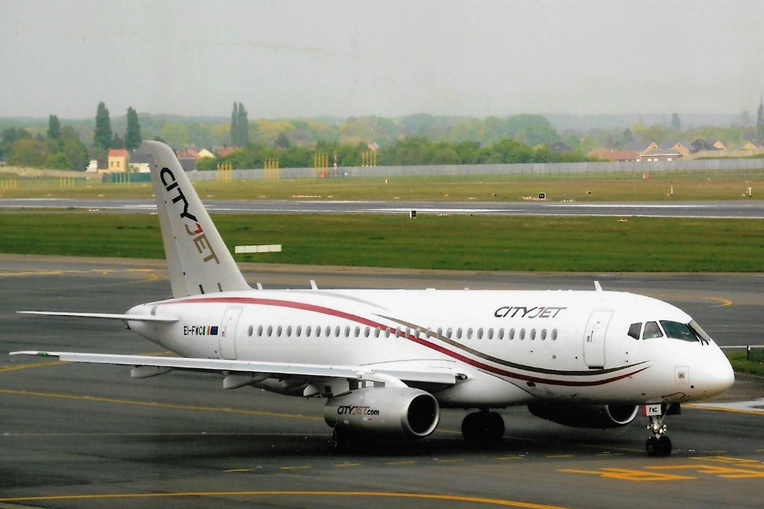 Well after some firsts, what about some lasts. BAC 1-11s were very noisy beasts and could not comply with the latest noise regulations so the few still flying in Europe were grounded. A couple of days before the end, European Airlines operated a number of 'farewell to the 1-11' flights from Luton and Manchester. My flight from Luton was very poignant when you think of how many holiday charter companies had operated the type from the Bedfordshire airport. BAC 1-11s soldiered on for a while down in Africa but have now all been grounded. A type that made its world wide bow-out in the UK was the Douglas DC-10 passenger airliner. Bangladesh Biman Airlines operated the world's last passenger configured aeroplane and before it departed the UK for its positioning flight back to Dacca for scrapping, they organised some farewell flights from Birmingham. There was cake in the shape of a DC-10 before we departed and a party atmosphere on board with passengers wandering around and the cabin crew having their pictures taken. After landing the flight crew opened up the cockpit for those who wanted one last look at this old airliner before it was replaced by a new Boeing 777.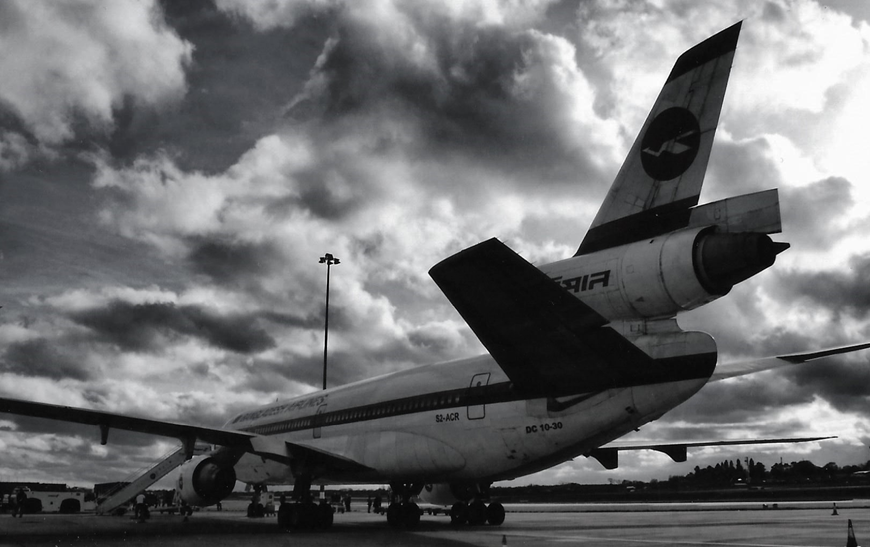 The last airline in Europe flying passengers on Fokker F27 Friendships was Irish airline Euro Celtic. They operated two of these classic aeroplanes, with a Waterford Eire to Luton flight route flown twice a day. With a flight out from Luton in the morning and an early evening return this seemed like an ideal opportunity for a bit of Irish hospitality and a flight on one of these much loved but fast disappearing aeroplanes. We had a great trip over and on arrival at Waterford saw the other half of Euro Celtic's fleet parked on the ramp being worked on by their engineers. After a bit of sightseeing in town including a nice lunch and a couple of pints of the black stuff we arrived back at the airport to check in. Waterford airport is a very small place, the terminal is no bigger than a large shed. After check in at the only desk the same guy took us all through security and into a small room which served as the departure lounge. Outside we could see the Friendship from earlier still being worked on and alongside it our plane, now also being worked on by the engineers. That was the whole Euro Celtic fleet grounded! It transpired our aeroplane had developed a fuel pump fault and they were robbing a pump off the other plane to fit to ours. All this was taking time so as the terminal had shut for the evening, we were the last flight out, the same guy who had checked us in was now taking orders for chips as he was going across the road to the local café for supplies to feed us! When we eventually got on our way the sun was setting and the sky was full of fluffy cumulus clouds so the flight back to Luton was quite spectacular with the red rays of the sunset reflecting off the clouds.
Back to my favourite genre, warbirds and a trip with FIFI. At the time of my flight she was the world's last airworthy Boeing B-29 Superfortress, she has since been joined by one more example of this iconic bomber. Named after the wife of the guy who saved her from destruction on a weapons range, this was the type of plane that dropped the atomic bombs that ended the Second World War. Operated by the Commemorative Air Force, FIFI tours the United States each year bringing its story to not only the veterans who operated the type when it was in service but also to the younger generation who may be unaware of what happened in 1945. As part of this nationwide tour flights are available on this unique aeroplane. Having flown previously in a B-17 Flying Fortress and a B-24 Liberator, bombers which were designed only a few years earlier than FIFI it was sobering to see how fast technology had progressed through the war years. For instance there were no gunners in the turrets, the guns were analogue computer controlled remotely by gunners sitting in a warm pressurised fuselage. This computer was so advanced for its time that it worked out what lead to apply to the guns in order to hit the target. All the gunner had to do was keep the target in an aiming circle and the computer did the rest. The front and rear fuselage sections were connected by a crawl tunnel over the unpressurised bomb bay. Sadly, because of this passengers had to stay in either the front or rear of the aeroplane as the operators couldn't face the possibility of anybody getting stuck in the tunnel!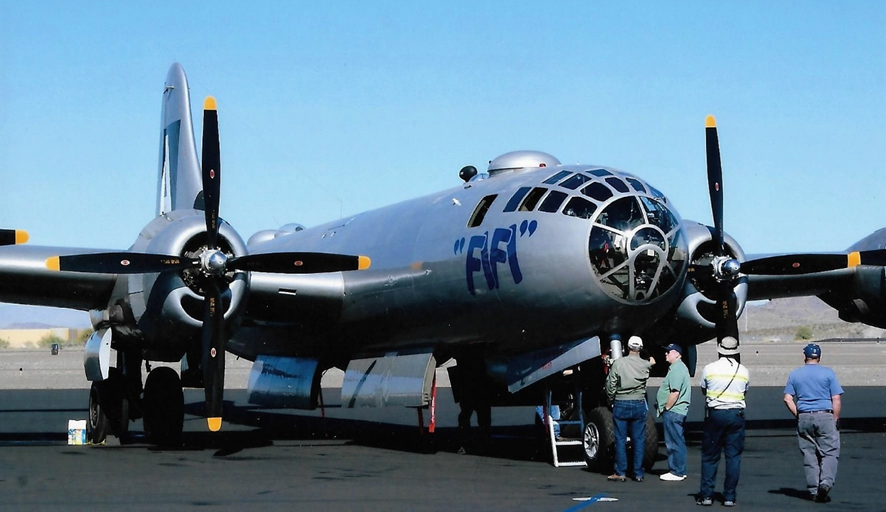 Finally 'The Last', after 199 flights over 56 years a deal was done with Mrs B to hang up my gloves, helmet and silk scarf after one final flight. This flight was to fulfil the dream I had as a kid to fly in a Spitfire. A booking was duly made with Aero legends, one of several companies these days offering rides in this iconic British warbird. The flight was to take place at Sywell aerodrome and in a remarkable twist of fate my pilot was to be none other than Charlie Brown whom I had first encountered whilst flying on a 'Flight with a Spitfire' ride in a helicopter He had been the Spitfire pilot on that trip. Talking to him after my ride he said he has more Spitfire hours than anyone else presently flying Mr Mitchell's greatest design. On arriving at Sywell I was met with a remarkable piece of luck as not only had Aero legends brought both of their two-seaters as business was so brisk, but Caroline Grace was also operating rides in her two-seater Spitfire. When was the last time three two seat Spitfires operated together?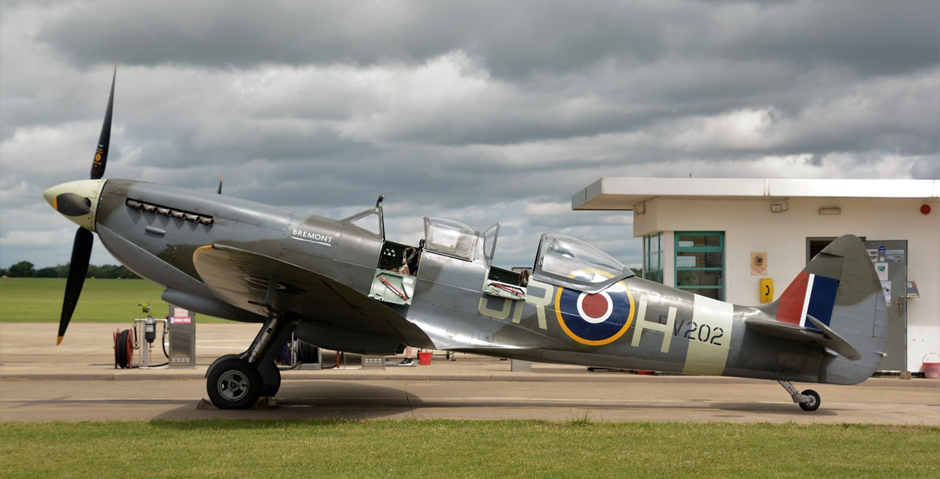 Before the flights commenced there was a briefing which I guess was a CAA requirement as there was lots of talk of dangers which may result in death and so forth along with instruction about bailing out and using a parachute! All very reassuring, but I have to say Aero legends made it clear that if after hearing all this you didn't want to go they would refund your money, no questions asked. Guess what? No one asked for their money back! So after being kitted out in suit, boots and gloves it was just a case of killing time and impatience before my flight.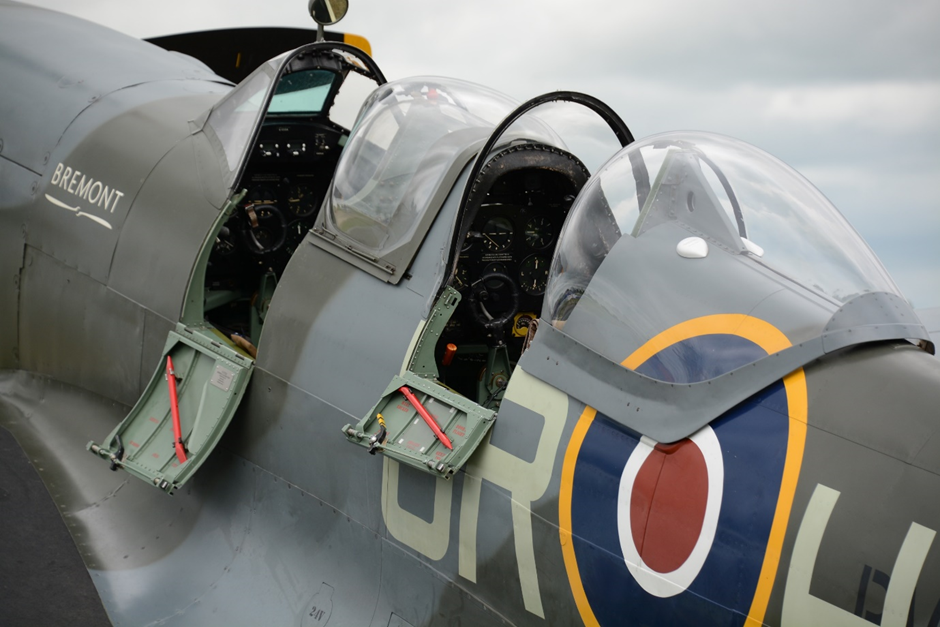 It was at this stage we had a short chat with the pilots who had decided between themselves that as they would both be airborne at the same time it would be rude not to do a short session of formation flying. There is a God! For Health and Safety reasons cameras were not allowed on the flight so you will just have to take my word for it that sitting alongside another Spitfire so close you can almost touch it is AMAZING!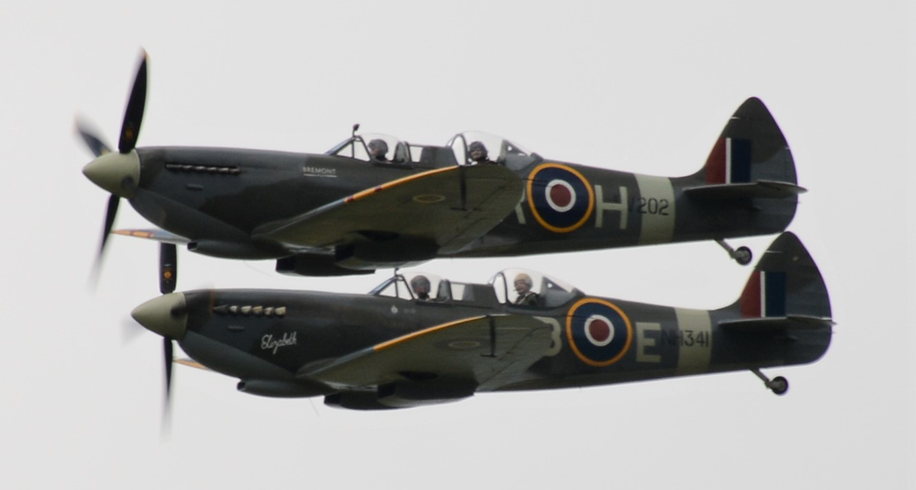 When my turn came it was a short stroll across the tarmac before climbing in and being given a refresher of the safety brief from one of the ground crew, Charlie then informed me he would not be using the intercom but would give any necessary hand signals through the rear view mirror. These signals would tell me which way to go when I was flying. Pardon? Did he say when I was flying? This just got better and better! All strapped in and canopy closed Charlie called 'Clear' and the mighty Merlin turned a couple of blades and then with a roar, a cloud of smoke and a stab of flame burst into life. Now I don't know about you but when I hear a Merlin engine in flight it is a wonderful sound. Well let me tell you, from inside the cockpit it's even better, very noisy and smelly but boy the sound is powerful as those 1700 horses kick into life!
After a short wait to get the temperatures and pressures towards the greens we start our weaving taxi to the runway threshold where Charlie lines up on the grass and before you know it we are roaring along and leaping skywards to rendezvous with the other Spit flown by Parky Parkinson which had taken off a couple of minutes earlier. It was a joy and honour to have been part of five minutes or so of formation flying by two such accomplished pilots. All too soon we went our separate ways and Charlie climbed up towards the wonderfully fluffy clouds and started to weave in and out of them. A wing over or two later it was my turn and I had control of a Spitfire. It needed so little control input to dance around the sky it was truly incredible. On our way back Charlie took back the controls and I was treated to that iconic Spitfire manoeuvre a Victory Roll, well several actually! 30 minutes just flew by, no pun intended, as all to soon we were on a beautiful curved approach to land back at Sywell and the end of flight 200 and the fulfilment of a dream. Fantastic day.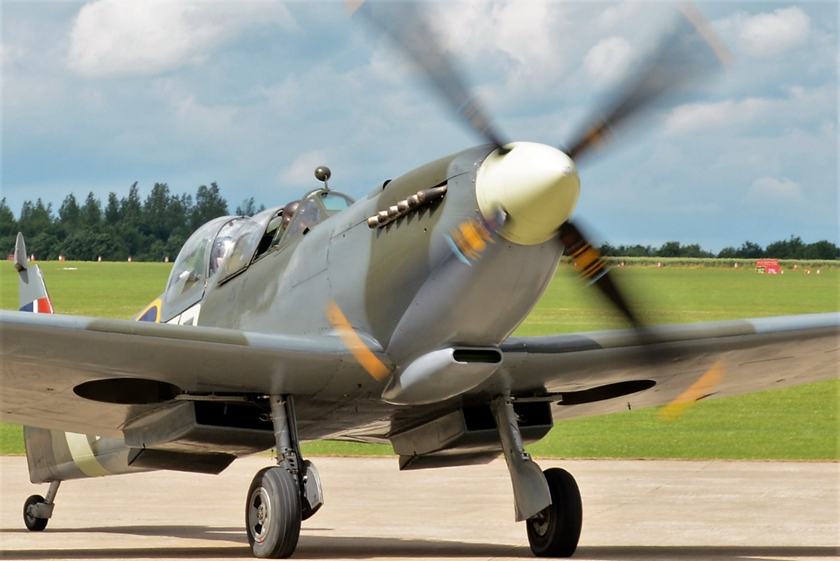 All that was left after the Merlin had shut down and fallen silent, apart from the ticking and creaking of the cooling engine, was to thank Charlie Brown and all the members of the Aero Legends team for a quite remarkable afternoon.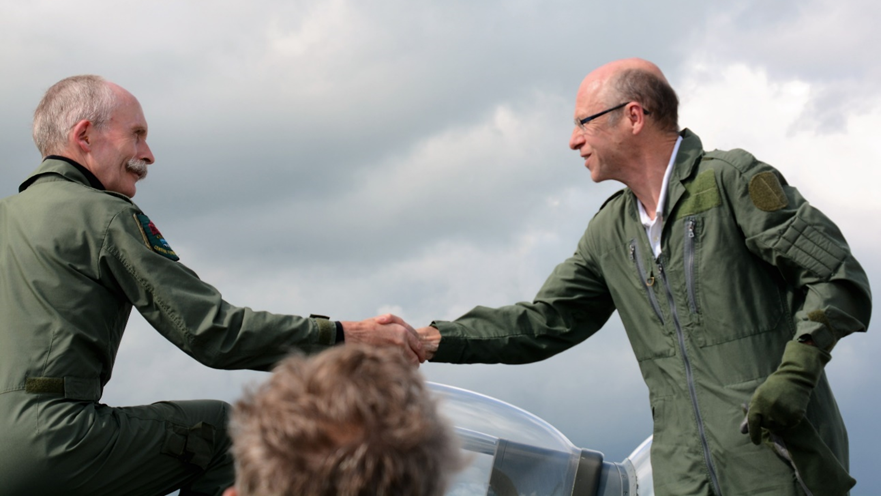 From that first Auster flight at North Denes aged eight who would have thought 56 years and 200 flights later I'd be in a Spitfire at Sywell. From now on its just holiday airliners for me.
Hope you enjoyed this article. During the present Corona Virus crisis we will be posting a new one every two weeks to keep you entertained until we can all return to Duxford sokeep an eye on the website. Stay safe.
'till the next time Keith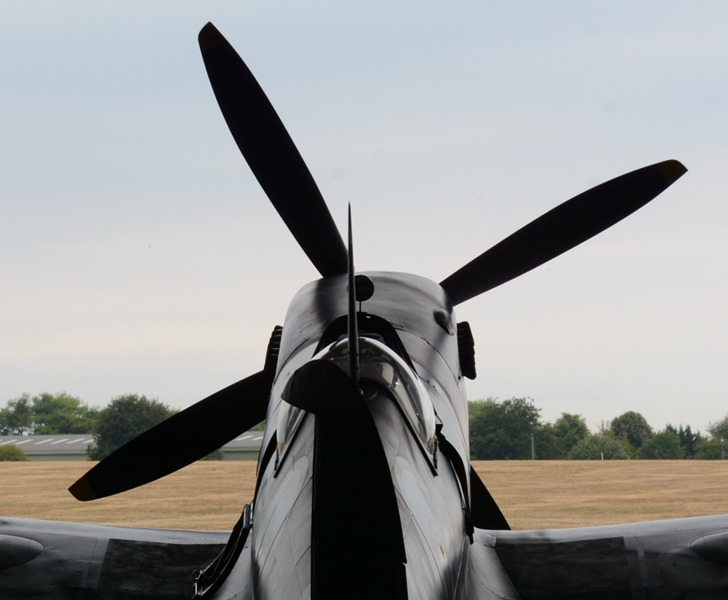 Registered Charity No. 285809