Fighting forest fires from the air
Added by Keith Bradshaw on 26 July 2020
We are lucky here in the UK in that despite some large forest and heath fires now and again we do not see the size of problems encountered every year by many other countries such as the US, Canada, Australia and parts of Europe. Our only view of Fire Bombers or Air Tankers as some countries call them is through the media. It may surprise you to know that two types of UK aeroplanes are involved in the industry along with British firm Babcock who operate over 100 fire fighting planes and helicopters all over the world. It's not just the big charismatic Air Tankers that make up a successful aerial fire fighting team, there are also the spotter and aerial director planes which guide the bombers onto the targets, helicopters and small single engine planes which drop on small isolated fires and aeroplanes for parachuting in the smoke jumpers to attack the fire on the ground. But with one exception this article will concentrate on the big boys, the Fire bombers or Air Tankers as the Americans call them.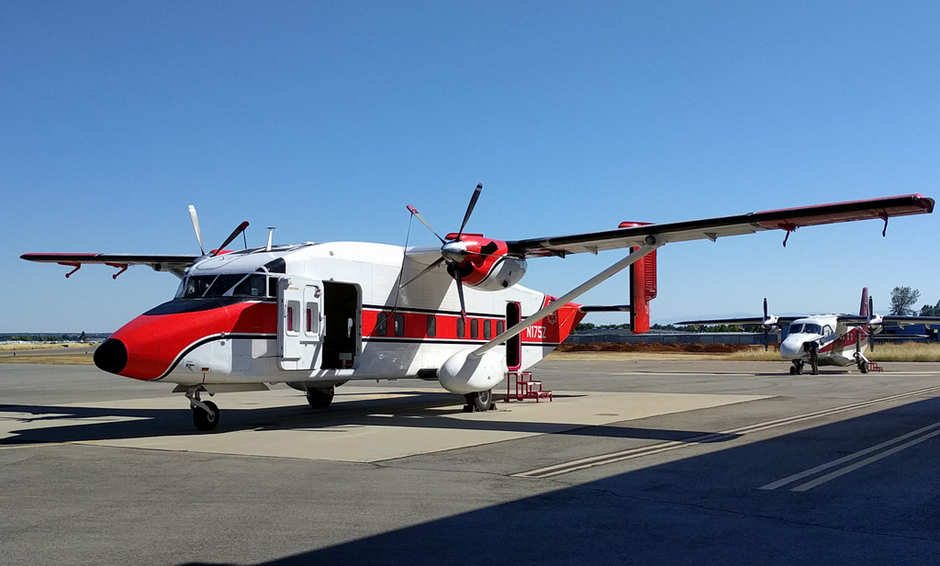 That one exception is a small part played by a plane from the UK, the Shorts Sherpa. Those of you who read the recent article about the Belfast-based Shorts company will know a large number of modified SD-330s were sold to the USAF for use as general cargo planes around Europe. When these aircraft were no longer required they returned to the US for storage or use by the US Army. Some have been taken on by the US Forest Department and refitted for use as Smoke jumper planes. These fly out to remote fires and parachute fire fighter into the forest to fight the fire on the ground.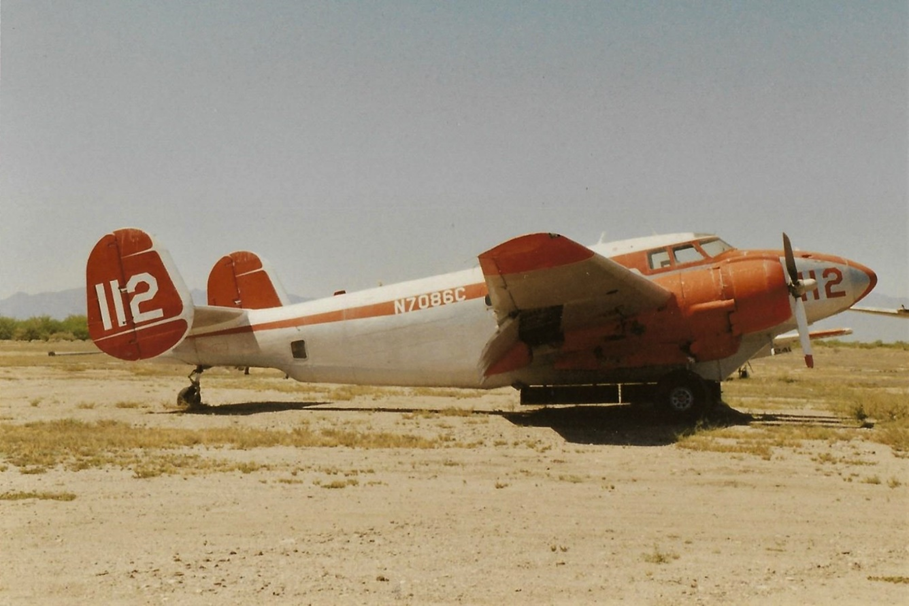 Where did it all begin? For many years the only way to stop a forest fire was to use fire crews battling it on the ground and this is still true today. But now the fire fighters have help, Fire bombers. Fire bombers do not actually drop on the fire but just at its edge to provide a firebreak using a water/chemical retardant mix. This stops the fire's progress and enables the ground crews to extinguish the remaining fire more easily. It is generally believed the first documented attempt to control a fire from above was in 1930 when a Ford Tri Motor dropped a beer keg (approximately 16 gallons) of water, onto a fire. Proper water bombing !
From these first experiments it became clear that dropping water 'bombs' was not ideal as the barrel or whatever container was being used was a huge hazard to those on the ground. When it shattered on impact it could spread burning cinders around causing more fires. The next step was to try using Stearman crop duster planes loaded with water instead of fertilizer or weedkiller. This was more successful but it was found that just dropping water caused much of it to evaporate in the heat before it hit the fire. The problem was solved by adding Sodium Calcium Borate to the water. This slurry kept the water together with less evaporation and was deemed the way forward. The use of this chemical earned the planes the nickname 'Borate Bombers.' Dye was also added and the chemical mix refined to come up with the retardant solution used today. The red dye enables pilots to see where they have previously dropped their retardant.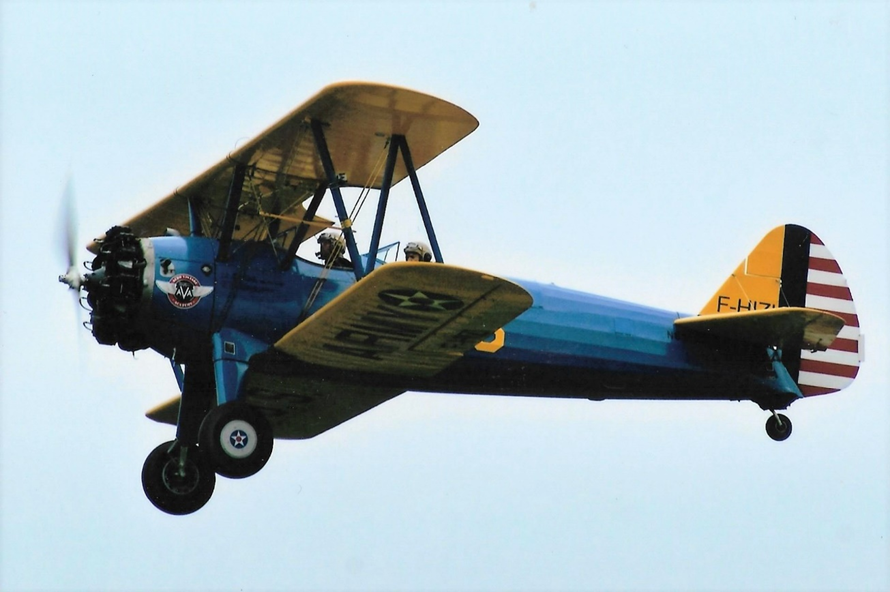 With large numbers of cheap war surplus aeroplanes around, operators began to look at larger aeroplanes and trials were going on in Canada using big Grumman TBM Avenger. These large single engine Torpedo bombers had originally been built for the US Navy and coming from the Grumman company they were very sturdy and well made. The Grumman factory wasn't known as the 'The Iron Works' for nothing! These conversions turned out very well and the Avenger was in service both in Canada and the USA for many years from the late 1950s. Around the same time, also in Canada, trials were taking place using PBY Catalinas. These flying boats were ideal as they could make use of the many lakes that dot the Canadian countryside. With scoops fitted to the underside they could descend onto a lake and taxi along on the hull step forcing water up the scoops back into their tanks without having to land at an airport between drops to refill with water. They would carry on-board tanks of retardant which would be mixed with the lake water as it filled the aircraft tanks.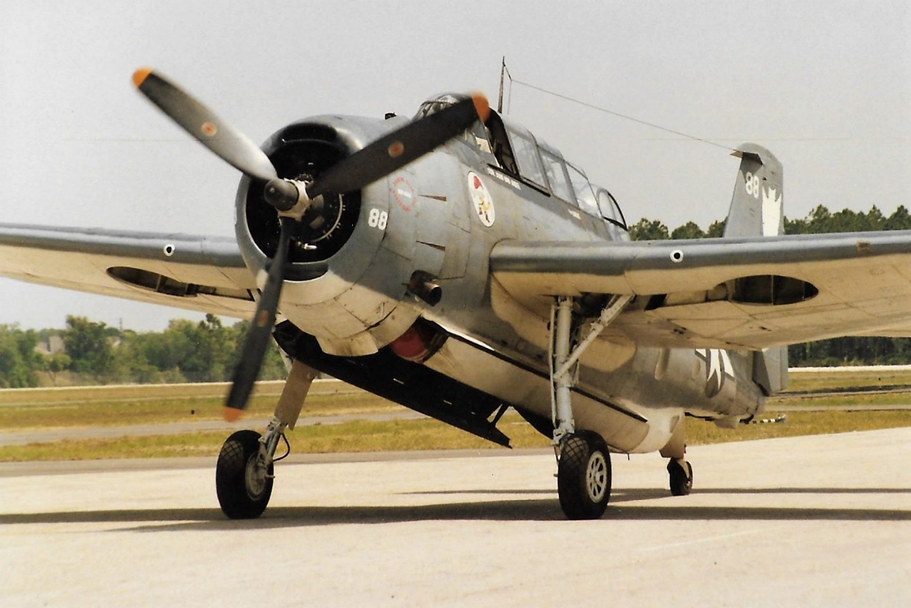 Back in the US they had gone even bigger with Boeing B-17s and Consolidated Privateers joining North American B-25 and Douglas A-26 twin-engine bombers in the race to join this new industry. The advantage of using these old aeroplanes was they were cheap and could be left idle for long periods of the year without accruing large costs for the operators, most of whom earned their money in the summer months on contract to state governments or Forestry Departments. There were, at the time, no other suitable aeroplanes available for the price. In the early 1960s there were sixteen B-25s on contract to the Californian Department of Forestry but after four crashes in a year the type was banned from operating in that state. Flying these big aeroplanes in and out of mountains and valleys was very dangerous work and many pilots and planes were lost in accidents. The big bombers were designed to be very stable in flight which was ideal for a high altitude bomb run but for fire fighting they were down low and needed to be hauled around in a style of flight they had never been designed for, hence structural failure was sadly quite common.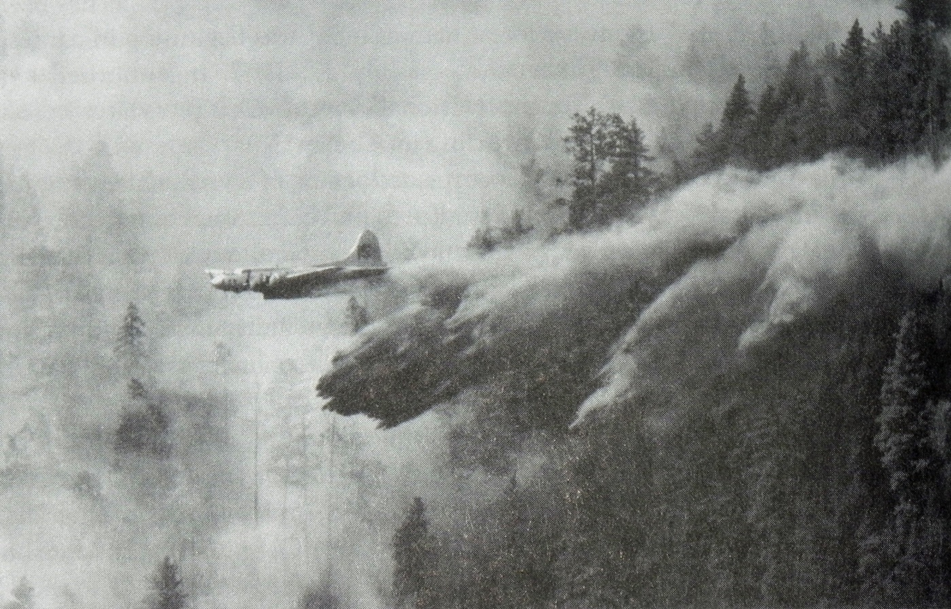 The banned B-25 fleet from California moved onto other states and their place was taken by the Douglas A-26 Invader. These flew on there until 1970 but the type remained operating elsewhere in the US and Canada for many years after that. In 1959 up on Vancouver Island at Sproat Lake could be found four of the largest flying boats ever to see service, the mighty Martin Mars. Now owned by Coulson Air Tankers these flying boats were originally purchased by a consortium of logging companies to provide their own private fire fighting service. These huge flying boats could carry a load of 7200 gallons and refill utilising the step taxi technique. They could suck up another 7200 gallons from the lake in just 25 seconds! When Coulson's bought them only two were left and one of those was earmarked for the USN museum in Florida but it has yet to make the trip south. The other boat went through an upgrade programme and now features an all-glass cockpit and to this day is listed on the Coulson Air tanker website as available for charter, 61 years after entering fire bomber service.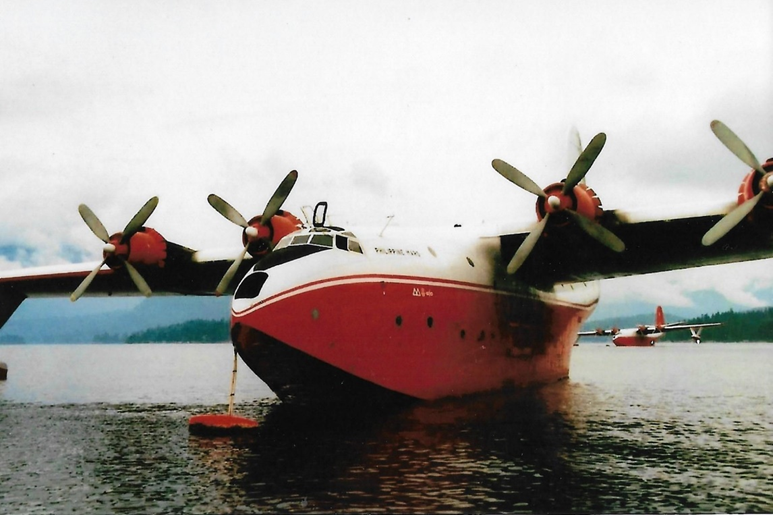 As time wore on some of the earlier aeroplanes such as the Avengers, B-17s and B-25s were beginning to show their age and retirement was fast approaching. The last B-17 operated by Aero Union retired in 1984. It was indeed the case for many of the ex-military planes that their service in later years as Fire bombers had saved them from the scrap man and many now became treasured items in the warbird community after their days fighting fires were over. Many of today's beautifully restored Mitchells, Avengers, Tigercats and Flying Fortresses owe their existence to a hard-working second life as a fire bomber. Here at Duxford one of the public's favourites the Plane Sailing Catalina 'Miss Pickup' spent time in Canada fighting fires before coming to the UK.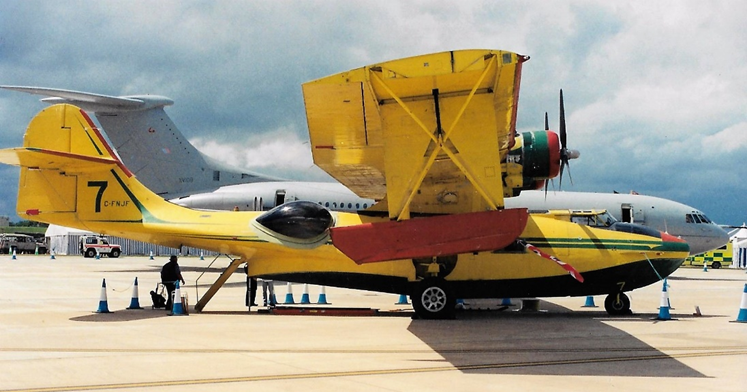 A company in California called Sis-Q Flying Services were unique in choosing the Grumman Tiger Cat as the basis for a fire bomber. These twin-engine, very powerful aircraft had been built for the US Marines and were used in the Korean war. Basically, they were a very slim fuselage attached to two huge radial engines making them a very fast and elegant aeroplane. When the massive retardant tank was attached underneath the fuselage their elegant lines were lost and they became pig ugly!! With such an excess of power they were able to carry 1000 gallons of fire fighting retardant and were very useful fire bombers. When Sis-Q finished flying in the late 1970s the remaining fleet of just seven aircraft all found homes in the preservation movement with a handful returned to flight. One was based for some years at Duxford before later returning to the US.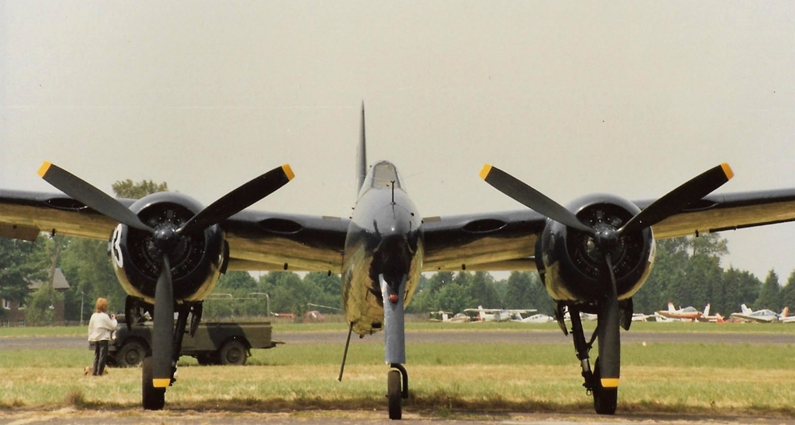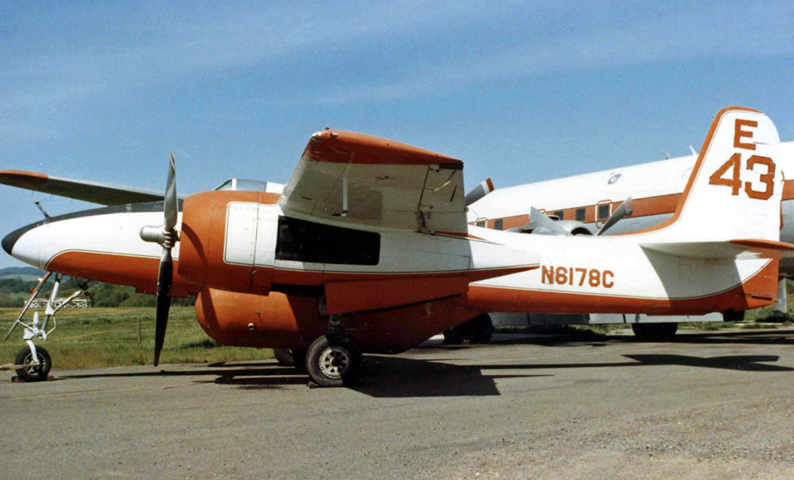 operators needed to look elsewhere for more suitable airframes. Just as time had caught up with the old Second World War aircraft it had also began to nibble at the toes of piston powered commercial airliners with many Douglas DC-4, DC-6 and DC-7 types being retired by the airlines in favour of jet equipment. These old airliners could be purchased for a song, just what the Air Tanker operators needed. The DC-6 and DC-7 could be fitted with large 3000 gallon tanks and would prove to be very successful as Fire bombers, with Erickson Air Tanker still having three DC-7s on their books today. The DC-6 also found itself operated in numbers by Canadian operator Conair based at Abbotsford BC and in France with the Securite Civile.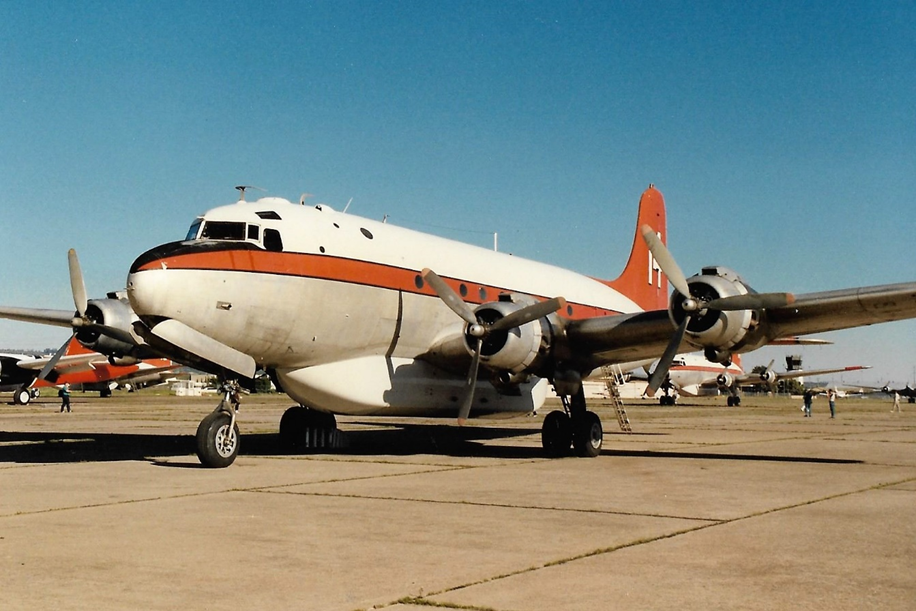 Other types which began to find favour were the Fairchild C-119 Boxcar which saw limited service with companies such as Hawkins and Power. It was not a particularly good firebomber and several were lost due to the wings failing under high G-forces. However the last one did not leave service until 1987. Another ex-military type that continued to provide good service for many years was the Lockheed P-2 Neptune, operated not just by Aero Union but other notable operators such as Black Hills Aviation in New Mexico, Evergreen in Oregon and Neptune Aviation of Montana. As many of these aeroplanes were retired they were donated to museums to keep their story alive.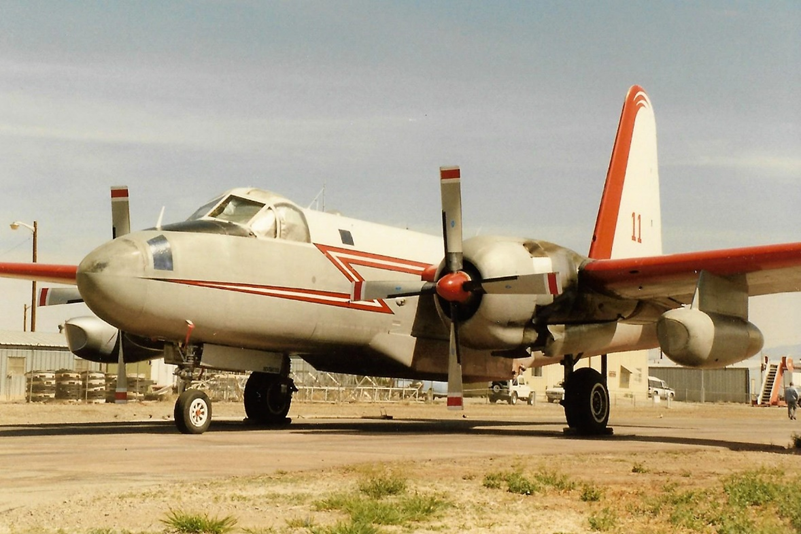 Another product of the Grumman Iron works was the S-2 Tracker. Originally built as an anti- submarine aircraft for the US Navy this nimble twin-piston engine aircraft became a big player in the industry. After a number of years in operation in the US, Canada and France a large number of them were re-engined with turbines and continue in service today.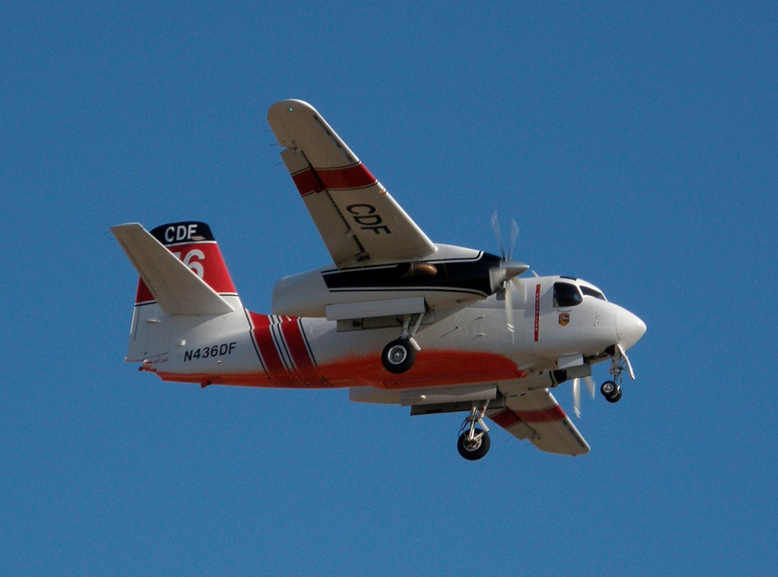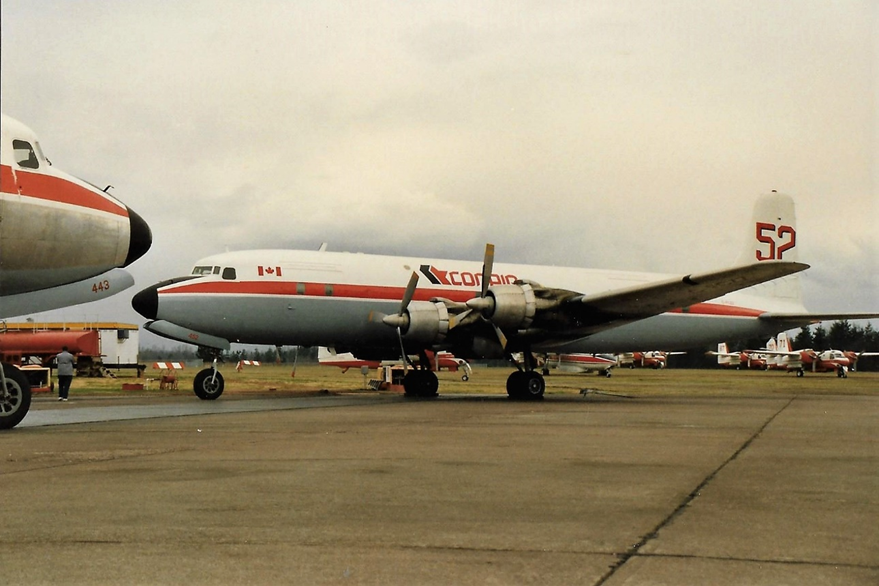 Whilst all this re-equipping with old converted aircraft was going on, Canadian aircraft company Canadair had gone back to the drawing board to design an aeroplane purely for fire bombing. In 1967 this produced the CL-215, still the only aircraft designed from scratch for the role. The CL-215 was originally powered by two piston radial engines but 17 of the 125 built would later be converted to turbine power and re-named CL-215T. Production of the CL-215 ended in 1990 with examples in service with various Canadian Provinces, Greece, Spain and Turkey. A few years later in 1998 Canadair re-opened the production line with the new turbine-powered and updated CL-415 which saw service amongst others in Italy, France, Greece and Canada. Later known as the Bombardier CL-415 95 examples would be built by the time production finally closed in 2015. With Bombardier pulling out of aircraft production the rights to the CL-215/415 were passed to a company called Viking who are marketing a newer more versatile version to be known as the CL-515. An order for six of these new aeroplanes has been received from the Indonesian air force.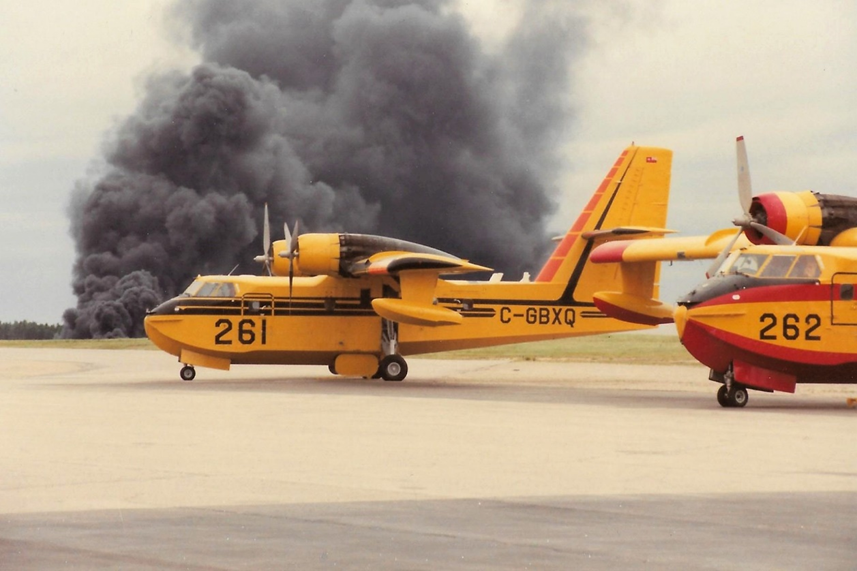 The CL-215/415 has sold well around the world and is in operation with 20 countries that maintain a fire bombing fleet, one of which is France. The Securite Civile DC-6s have been retired, replaced by a fleet of Grumman S-2T Fire Cats and CL-415s.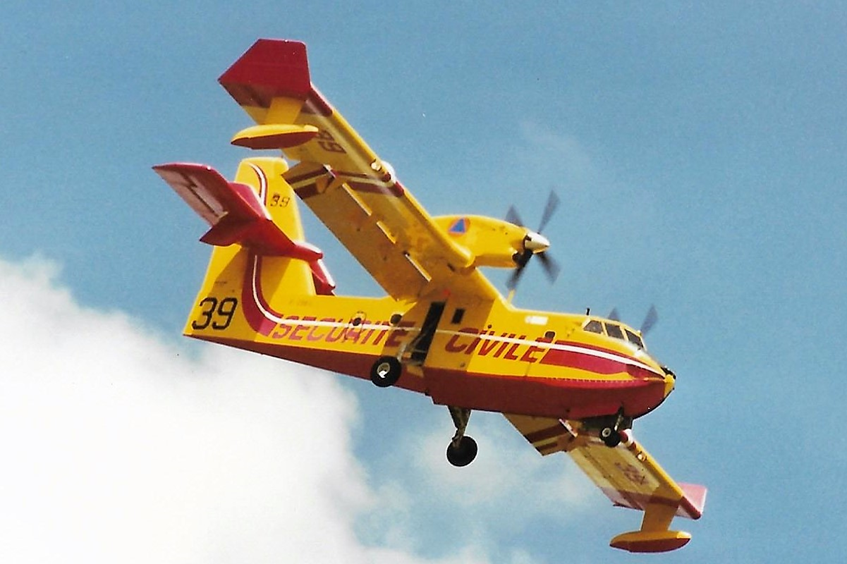 In a constant effort to improve safety, the operators in the US were forced to retire most of their large old piston engine airliners and look again for something more modern for their fire bombers. One type that was tried was the early model C-130A Hercules which had been retired by the military. Bearing in mind these first flew in 1954 it was perhaps not surprising a number crashed when the wings broke off and the type was for a time discarded. Another Lockheed product which did fit the bill was the Lockheed P-3 being retired by the US Navy. These and the civil version, the Electra, were just the thing the operators needed, four engines, turbine powered, well built and in plentiful supply at the right price.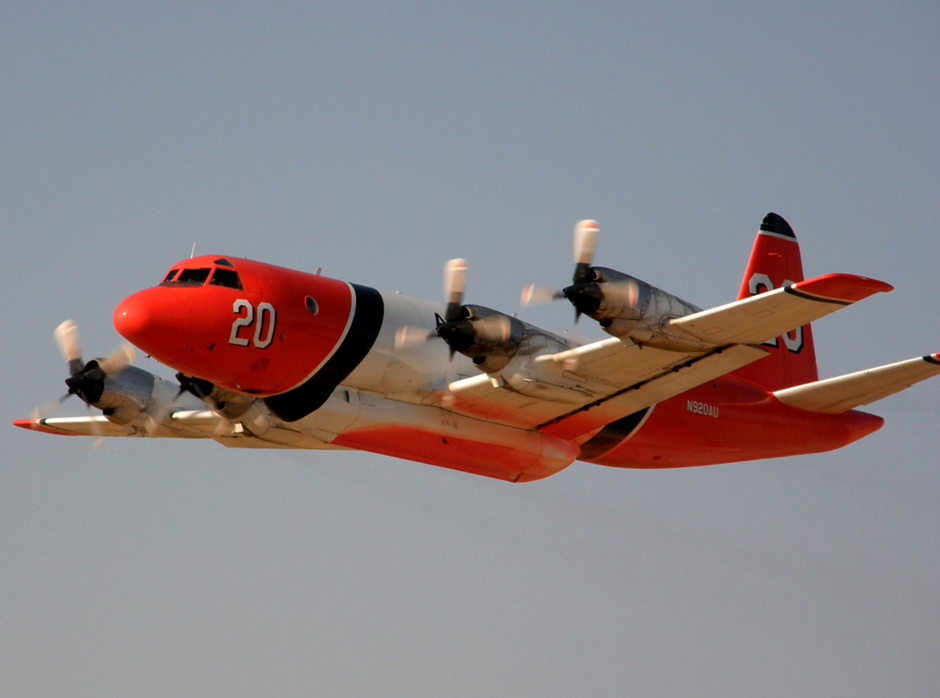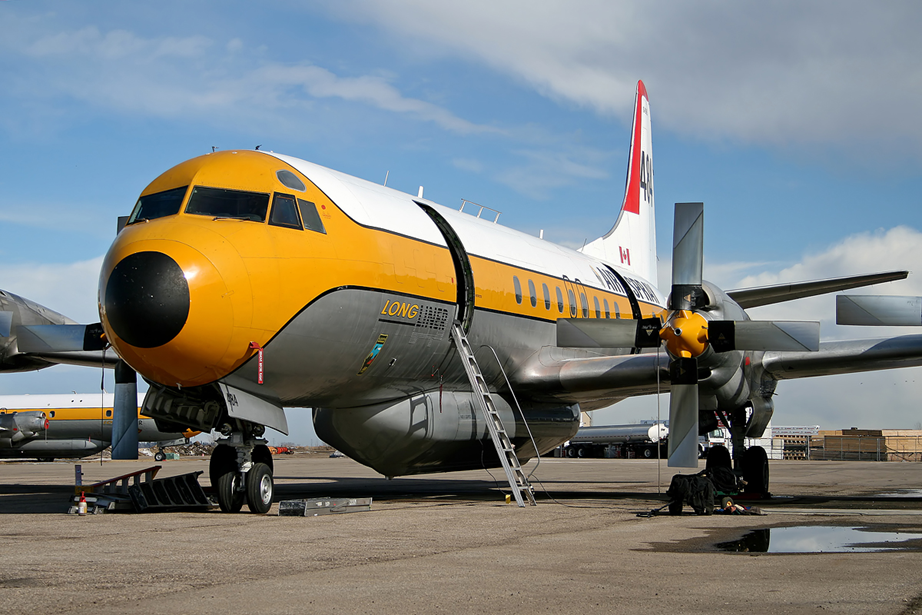 As many of today's airlines rush to re- equip with the most fuel-efficient jets they can find, the older planes are ending up either parked in a desert somewhere or scrapped. With this supply of more modern equipment rich for the picking it was no surprise that jets started to become fire bombers. Erickson Air Crane operate a fleet of five MD-87 (DC-9 derivative) aircraft whilst Coulson Air Tanker have six Boeing 737-300 tankers in service. The most popular jet however is the British built BAe 146/RJ group of aeroplanes. Around 20 have been converted for their new role, some with internal tanks others with conformal tanks on the outside of the fuselage. These British jets have found service in both Canada and the US and are capable of lifting 3000 gallons making them a very capable fire bomber.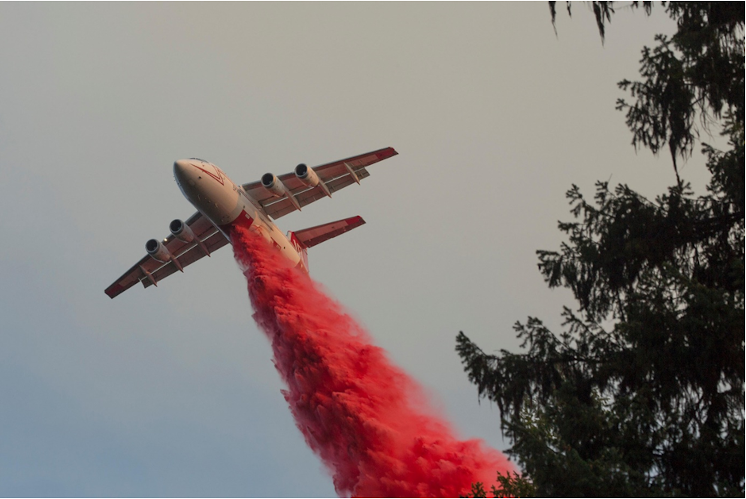 You may remember earlier I mentioned the early failure of the C-130A Hercules. This was not the end for the world's most popular cargo plane. A system called MAFFS (Mobile Air Fire Fighting System) was introduced which saw all the fire fighting tanks and pumps etc. being mounted on pallets which could be loaded through the rear cargo door and then connected to ducts mounted in the aeroplane's rear passenger doors through which the retardant would be dropped, MAFFS could be fitted into any of the modern Hercules used by the USAF or Air National Guard. This system could be trucked to the nearest Hercules equipped airbase and used as a last resort fire fighting asset. Military aircrew were not trained in aerial fire fighting so would not be expected to perform the difficult flying needed for accurate drops.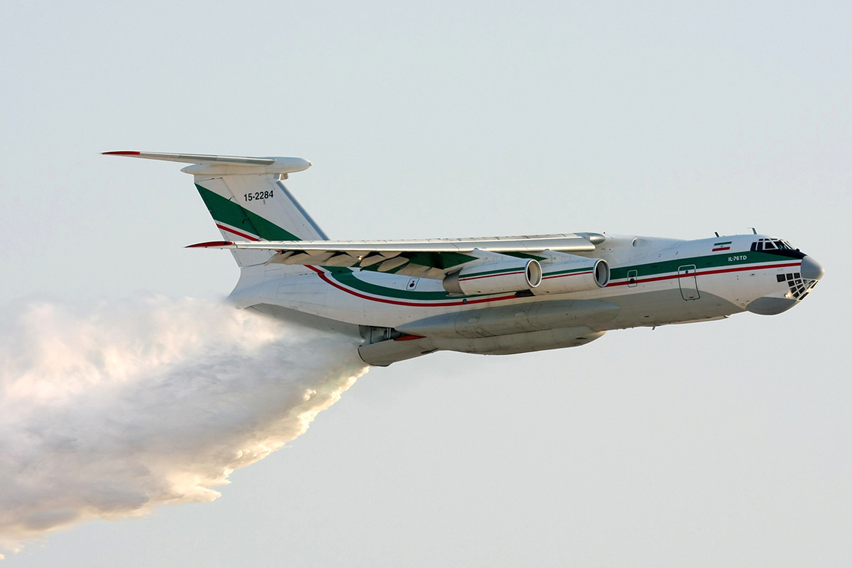 A very similar system to this was adapted in Russia for the Illyshin IL-76 and was exported to other operators of the big transport aircraft. The Russians also use a jet-powered flying boat the Beriev Be-200 which can lift a load of 3100 gallons, scooping it up into its tanks from a lake or the sea.
In 2006 there was a quantum leap in the amount of retardant that could be airlifted when a company called 10 Tanker Air Carrier introduced their DC-10 based Fire bomber. Capable of lifting 12,000 gallons in an external tank five of these huge tankers have been built and are available for charter all over the world from their Albuquerque, New Mexico base. The entire 12,000 gallons can be dropped in just eight seconds, however refilling takes some time which limits the amount of drops the planes can make in one day.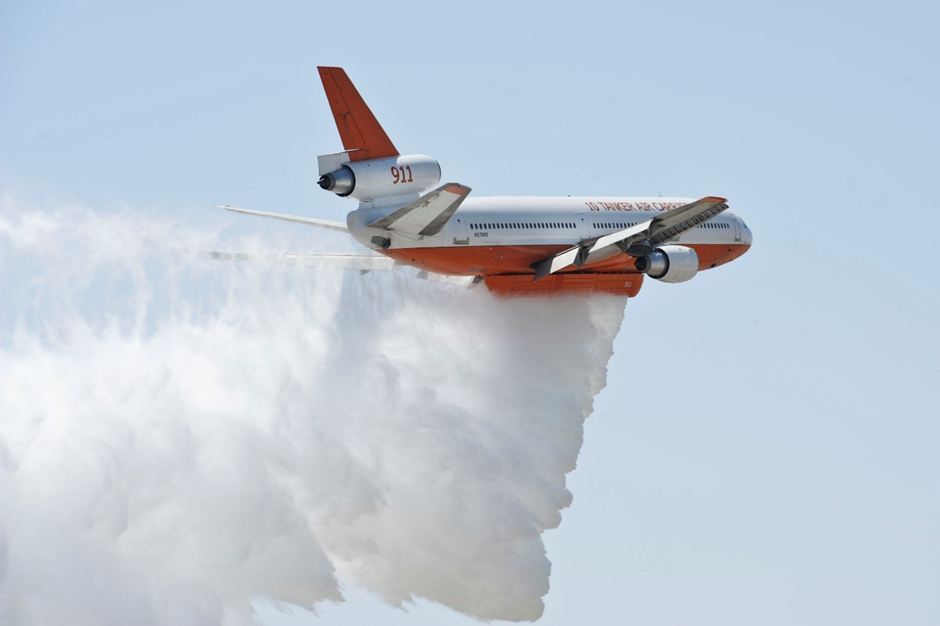 12,000 gallons is a lot of water but in 2016 the largest air tanker seen yet, a Boeing 747-400, uplifted 20,000 gallons! The first 747 based air tanker never entered service but the second did in 2009. Based on a Boeing 747-100 built in 1971 for Delta Airlines its first mission was to a fire in Spain. It subsequently returned to the US to fight fires at home. This aeroplane was taken out of service and its place taken in 2016 by the present day Global Super Tanker Services 747-400. Thus you can see from the title of this article aerial fire fighting has come a long way since that Ford Trimotor dropped 16 gallons back in 1930. Literally 16-20,000 gallons over 84 years of fire bombing.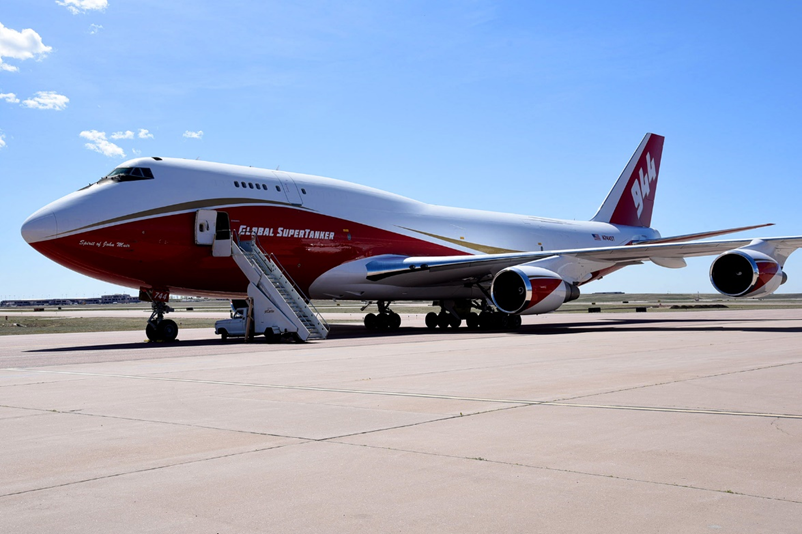 It may all be big jets now but the romantics among us will always think of fire bombers as big old piston planes down low over the smoke and flames. So let's finish with a lovely shot of a Douglas DC-7 of Butler Aviation on its way to another fire.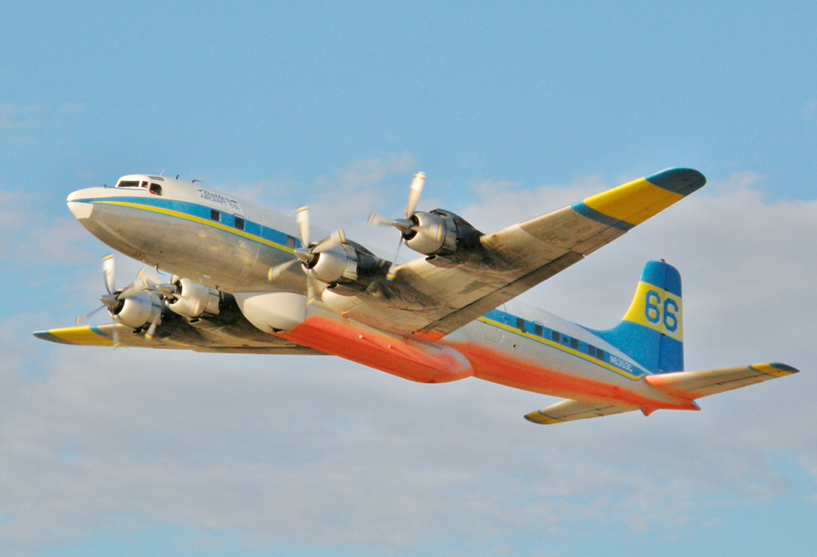 'Till the next time, Keith