The story of an Airline and an Airliner
Added by Keith Bradshaw on 10 January 2023
Britannia aircraft played a large part in the development of the smaller British airlines after BOAC disposed of its large fleet of the Bristol turbo prop, with many finding their way to the charter companies. One of these was Eagle Airways (later to become Cunard Eagle and then British Eagle). This is an account of their time with the Britannia.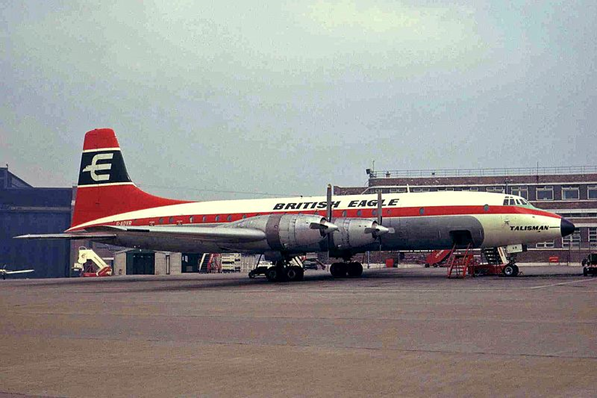 The first of 23 Britannias to be operated by the airline arrived in April 1960 on lease from Cuban airline Cubana and was registered G-APYY. It was immediately placed into service on a trooping flight on behalf of the Ministry of Defence to Christmas Island. Just three months later in July 1960 the airline was re-named Cunard-Eagle following its 60 per cent buyout by the Cunard shipping line. Cunard had seen how transatlantic passengers were leaving the liners of the day in preference for air travel and wanted part of that business. Cunard's investment enabled the airline to place an order for two Boeing 707 jets. Eagle already operated charter flights across the Atlantic to Canada and the USA and had plans to become a scheduled operator on this route - the reason Cunard first became involved with the airline.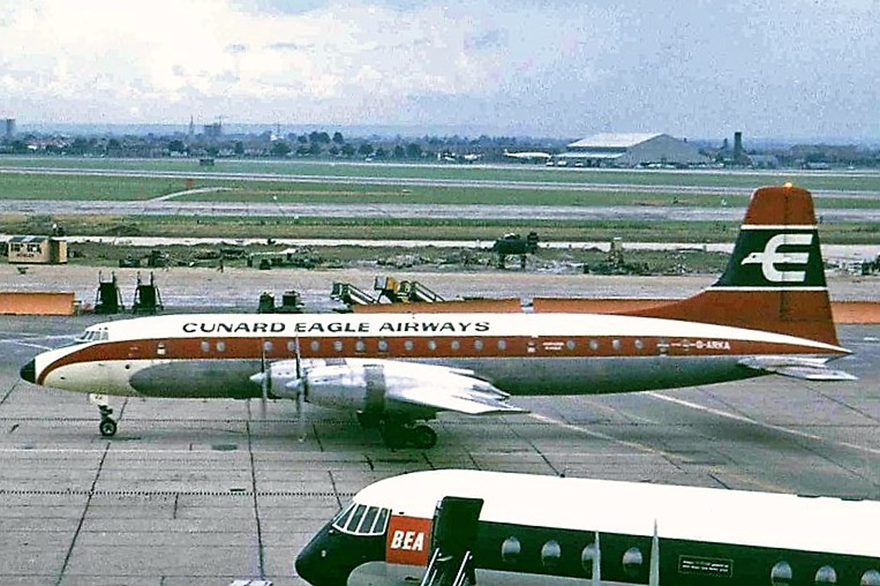 As the sole Britannia in the fleet PYY flew many trooping flights for the UK government. It also started a low frequency route from London to Nassau in the Bahamas via Bermuda in conjunction with BOAC, each airline operating the service on alternate months. This service was later extended to include Miami. To cover all these flights two additional Britannias joined the fleet in 1961 on lease from Canadian Pacific Airlines, these would become G-ARKA and RKB.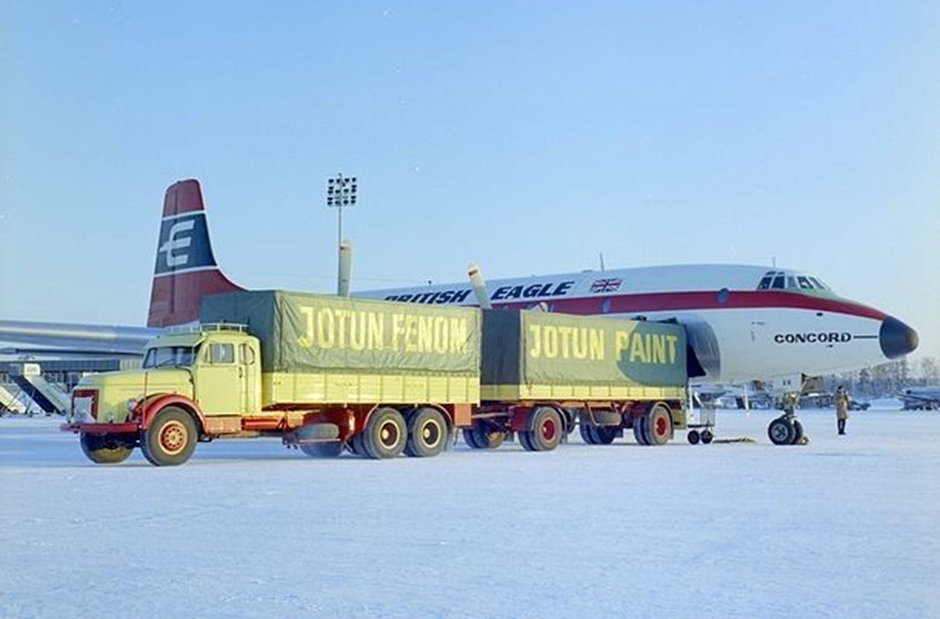 In June 1961 the British Air Transport Licencing Board approved Cunard-Eagle's request to operate scheduled flights across the Atlantic to a number of destinations. BOAC protested to the licencing authorities saying if they had to compete on these routes with the new airline there was every chance they would have to cancel their order for VC10s. This order was already a hot political potato as the airline felt it had been forced into buying the British planes by the Government instead of the American Boeings it really wanted. At the time of the order, as a sweetener, the Government had said no other airline would be granted licences on the Atlantic routes. An appeal was heard, and BOAC won which saw Cunard-Eagle stripped of its right to operate scheduled flights to the USA and Canada.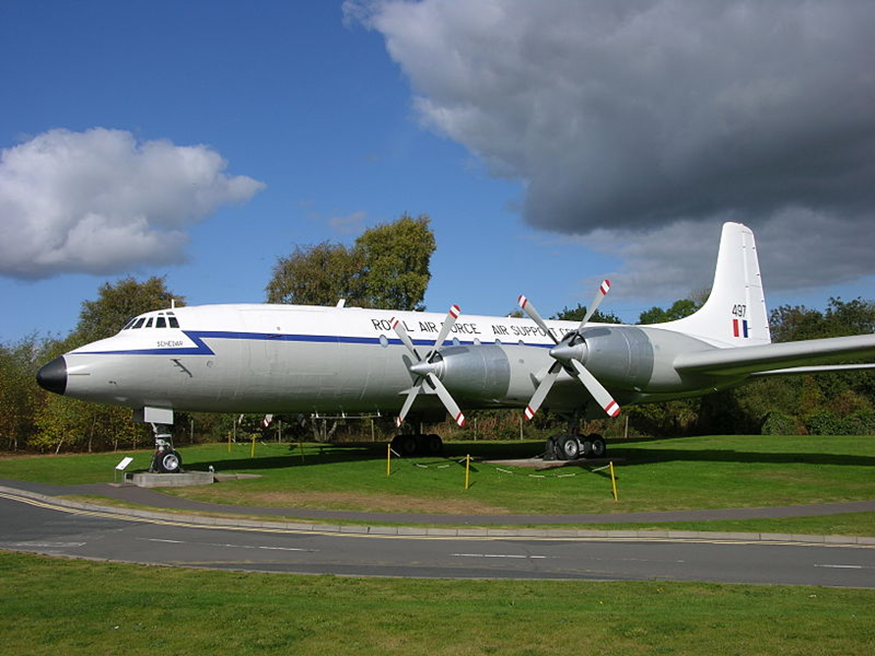 To get around this problem Cunard entered into talks with BOAC who already held transatlantic rights. This resulted in the formation of BOAC-Cunard (the colours of our VC10 G-ASGC), which left Cunard-Eagle with just a few scheduled European routes and its charter flights - a far from satisfactory outcome for the airline. In August 1963 Eagle's founder Harold Bamberg bought back 60 per cent from Cunard and the airline was renamed again, this time as British Eagle International Airlines. The two Boeing 707s on order would become part of the new BOAC-Cunard set up but not before one was put into service on the Bermuda-Nassau route which saw Cunard-Eagle become the first British secondary level airline to operate jets.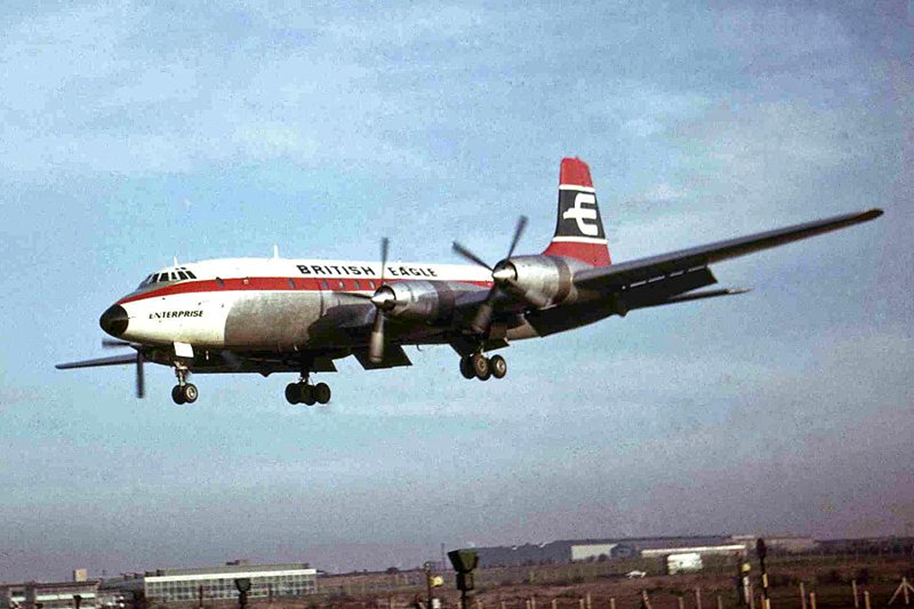 British Eagle had however managed to obtain licences to compete with BEA on some domestic routes and in November 1963 another leased Britannia, this time from BOAC, flew the first London to Glasgow service. This aeroplane was G-AOVT the very Britannia that is now part of the British Airliner Collection. OVT was also the first Eagle Brit to fly a scheduled service into Edinburgh whilst sister ship OVB (also on lease from BOAC) started the route to Belfast. With business going well another aircraft was leased in from BOAC, OVO arriving in January 1964. Sadly, however, the following month on a service to Innsbruck she hit a mountain whilst descending with the loss of all 83 on board.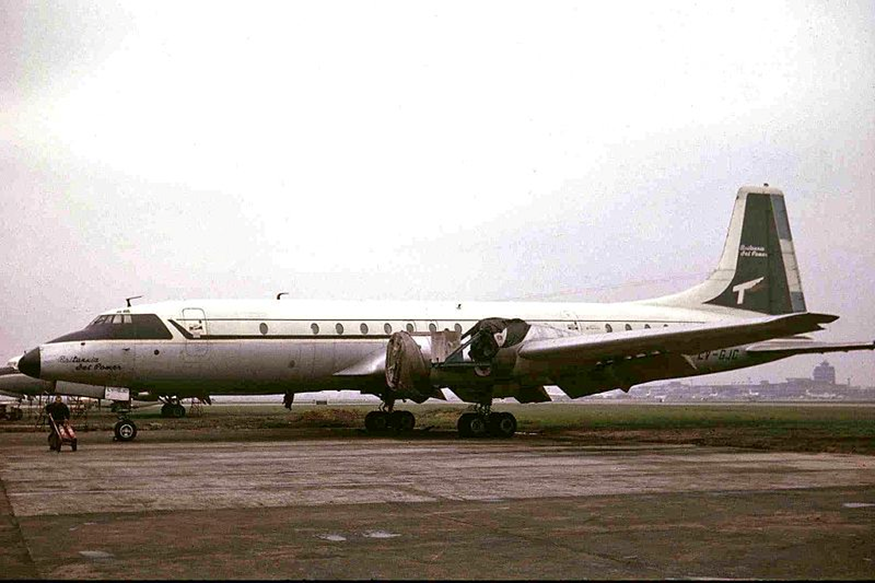 In early 1964 work had begun at the British Eagle Heathrow engineering base to convert two ex-Argentinian Britannias that had been bought from Transcontinental SA into combi aircraft capable of carrying either passengers, cargo or a mix of both. The two aircraft had a large cargo door fitted in the same way as the RAF Britannias, and became G-ANCF and NCG. One of these aircraft spent a long time supporting the British guided weapon Blue Steel programme at Woomera in Australia. 1964 was good year for the Britannia fleet at Eagle with a further ten mainly ex-BOAC examples joining the fleet on lease in the first half of the year. That summer saw the Britannias flying inclusive tour holiday flights from both Heathrow and Manchester. The airline also gained further trooping flights to Singapore and Hong Kong with three aircraft having their seats refitted facing rearwards as was the military fashion.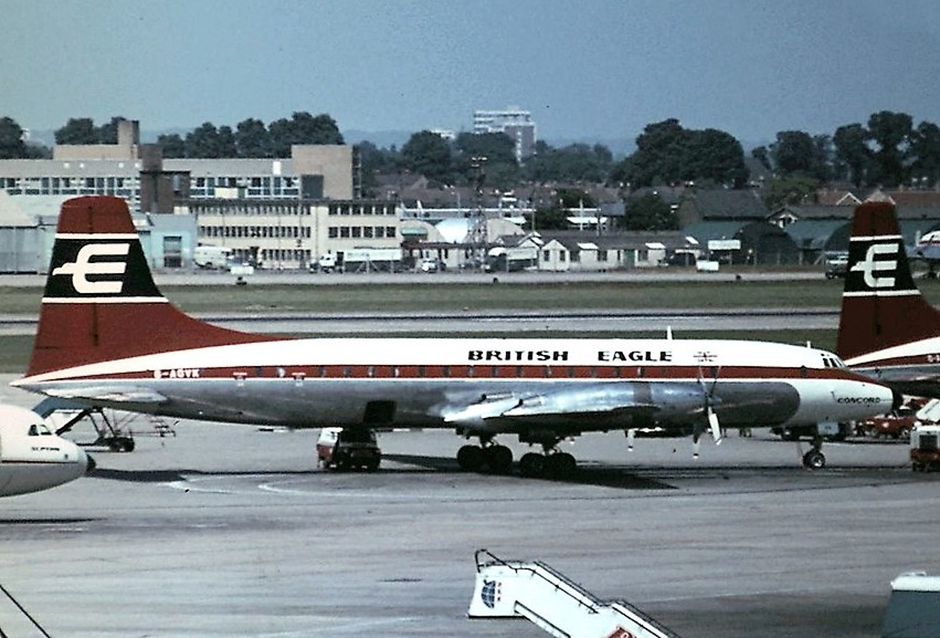 By 1965 the airline wanted to increase its frequency of services on the main domestic routes as their limited service was losing money. The Government refused permission so British Eagle suspended its routes to Glasgow, Edinburgh and Belfast. British United saw an opportunity and approached the licencing authorities with a request that these un-flown routes were transferred to them at Gatwick. This threat to their operations saw British Eagle recommenced flights to Glasgow and with a clever piece of slot pooling enabled them to use their other un-used slots from the suspended routes to increase the frequency of the Glasgow service.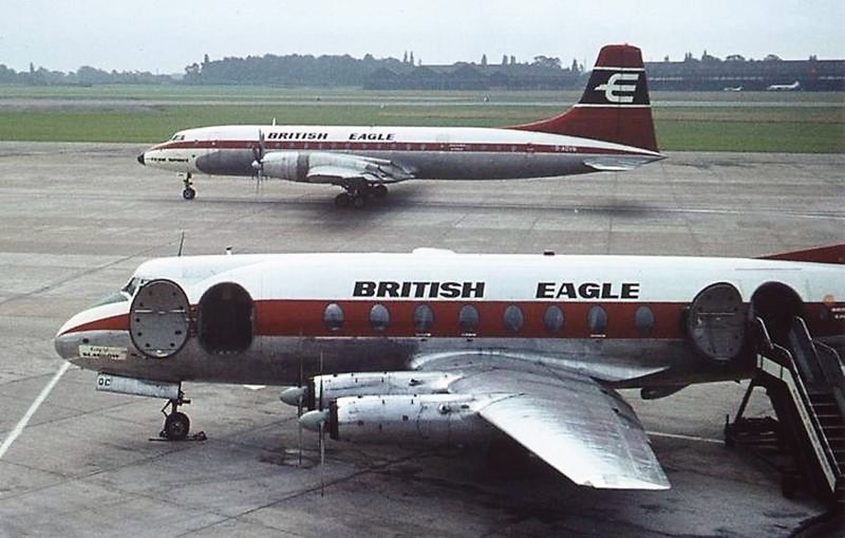 The fleet continued to expand and by 1966 British Eagle had 17 Britannias in service covering their varied business models. The following year one of the Combi aircraft G-ANCG took off from Heathrow on a government charter to Adelaide when there was a problem retracting the undercarriage. When all attempts failed to rectify the problem (which had in fact become worse when a hydraulic valve was broken losing all the fluid) the crew elected to make a forced landing at Manston due to its very large runway. The landing was successful with no injuries, but the aeroplane was written off.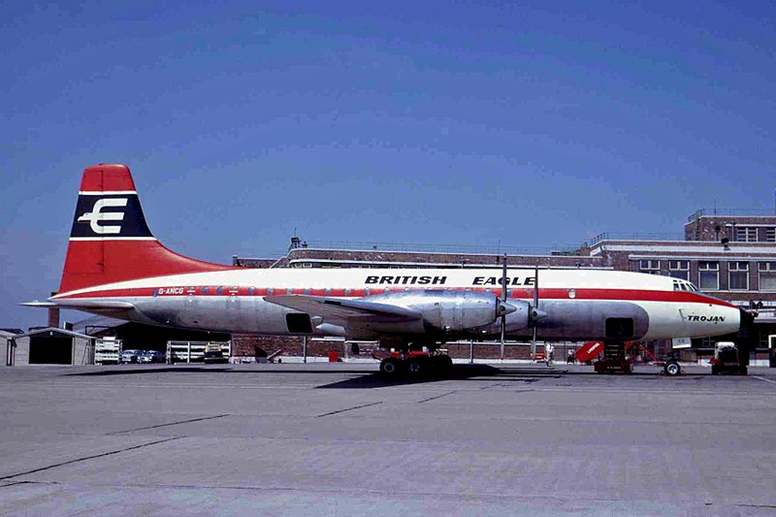 January 1966 had seen an Eagle Britannia mark a first for aviation when it operated the first ever commercial passenger flight from South Africa to South America. The flight left Johannesburg and departed Africa from Luanda making its arrival in South America at Recife in northern Brazil before continuing on to Rio de Janeiro. 1966 was a busy year for the British Eagle Britannia fleet seeing them arrive at the milestone of over 17 million miles flown.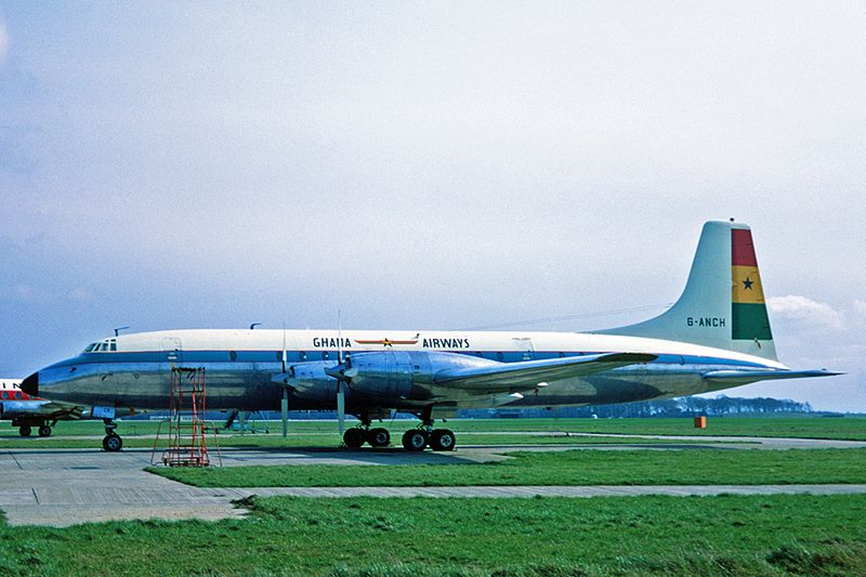 In 1966 the airline had publicised a plan for its future fleet requirements for 1970, this featured several jet types but also saw plans for 10 Britannias to remain in service. Two Britannias were sold off in 1966 following the ending of some trooping contracts, both went to Air Spain. On 20 February 1967 British Eagle Britannia G-ARKB operated what is thought to be the longest ever sector flown by a Britannia. Its route for this record non-stop flight was from Ascension Island back to London Heathrow which it achieved in 12 hours 55 mins.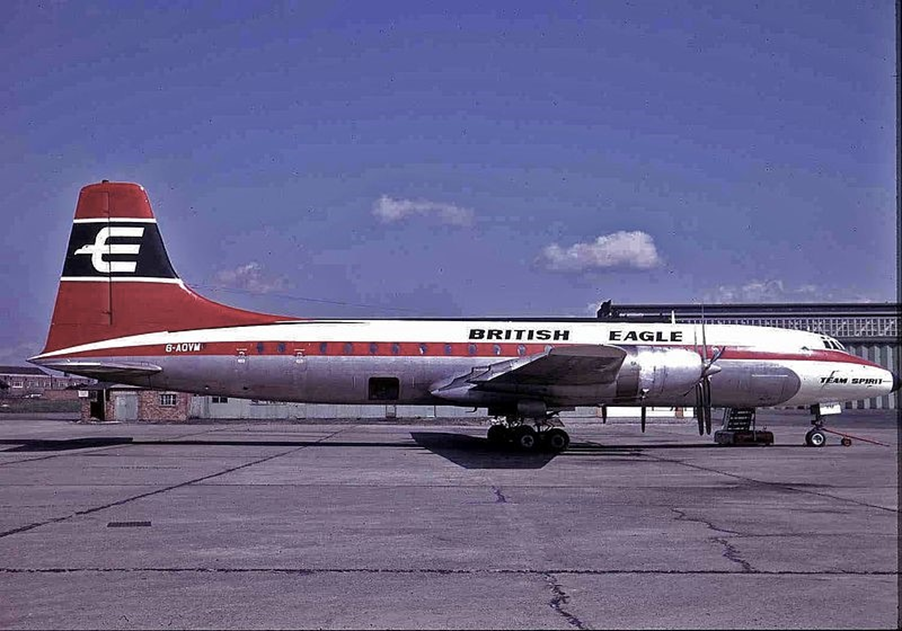 By 1968 Britannias had been forced off the transatlantic charters by Boeing 707 jets. Business was falling as a result of the previous year's Middle East war which caused a reduction in holiday bookings and a new £50 limit on foreign exchange per passenger. These problems put the airline in deep financial trouble causing the closure of the Liverpool engineering base and a number of Britannias were placed into storage. OVM flew the last cargo flight into Liverpool on 2 November and just four days later to everybody's surprise all flying suddenly stopped and the airline folded. The very last commercial British Eagle flight arrived at Heathrow from Israel the following day, flown by Britannia OVM.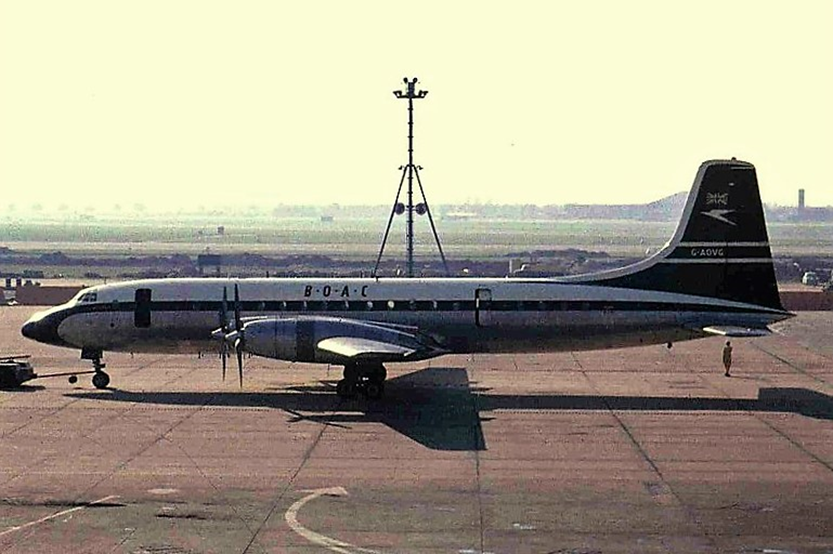 However, at the time of the closure announcement Britannia OVG had been on its way back from South America via the Azores and Rotterdam. At Rotterdam the airport manager tried to impound the aircraft over non-payment of bills, but some quick thinking by the captain produced a deal to get around this problem. But the fuel tanker driver would only accept cash. so they paid him in travellers cheques from the crew's on board allowance. They left Rotterdam ASAP becoming the very last British Eagle flight, arriving back at Heathrow on 7 November 1968 drawing the curtains on the airline's 20-year existence. There were 13 Britannias still on Eagle's books at the time of closure. Those that were still on lease from BOAC were repossessed and sold on, with several going to Monarch Airlines. Let's finish this story of Eagles and Brits with another look at one of only four surviving Britannias G-AOVT.
This is where I would normally finish with a cheery, 'till the next time', however there will not be a next time, as sadly this is my last article. After many years of producing these stories for our website the time has come for me to hang up my keyboard and leave the door open for somebody else to take up the reins.
You can still keep up with my ramblings about airliners and airlines plus of course updates on the British Airliner Collection at our Facebook page, just search British Airliner Collection. We are also on Twitter and Instagram if you prefer these platforms. Thank you all for your support over the years, hope you enjoyed the stories and I look forward to seeing you on Facebook.
All the best, over and out, Keith
Registered Charity No. 285809