An update on current activities
Added by Keith Bradshaw on 14 January 2022
Those of you who have read our website pages for several years may remember a regular series called 'Ramp Ramblings'. This series came to an end four years ago due to the author moving to the other side of the country and not being able to bring you regular updates on the goings-on at DAS. There has now been a request to try and bring back some sort of occasional update information to the website as well as the regular weekly posts on Facebook. This is the first of those updates which will appear under the new banner 'Maintenance Mutterings' hope you enjoy them.
DAS have three major British Airliner Collection projects at the moment, these involve the Hermes, Viscount and Herald.
Hermes: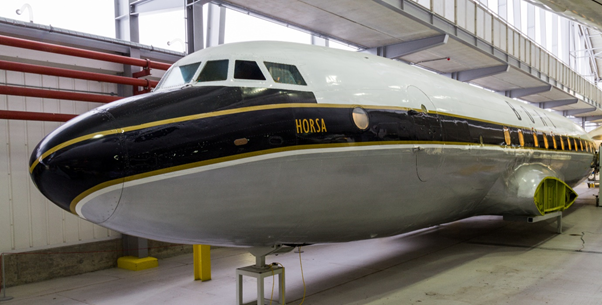 After several years of hard work the Hermes is almost ready to re-open as a stand alone museum dedicated to British post-war civil aviation. I can't bring you too many details as the project managers are keeping it under their hat for the big reveal just a few weeks time. I can tell you that the flight deck has been completely restored and refurbished and now features a perspex corridor so members of the public can walk onto the flight deck to see what working conditions were like for 1950s flight crews. The cabin has been completely changed with displays boards, audio/visual presentations and interactive exhibits. The Hermes has of course been fitted with our Covid safe CCTV system and a turnstile system like that on Concorde is also planned.
Viscount: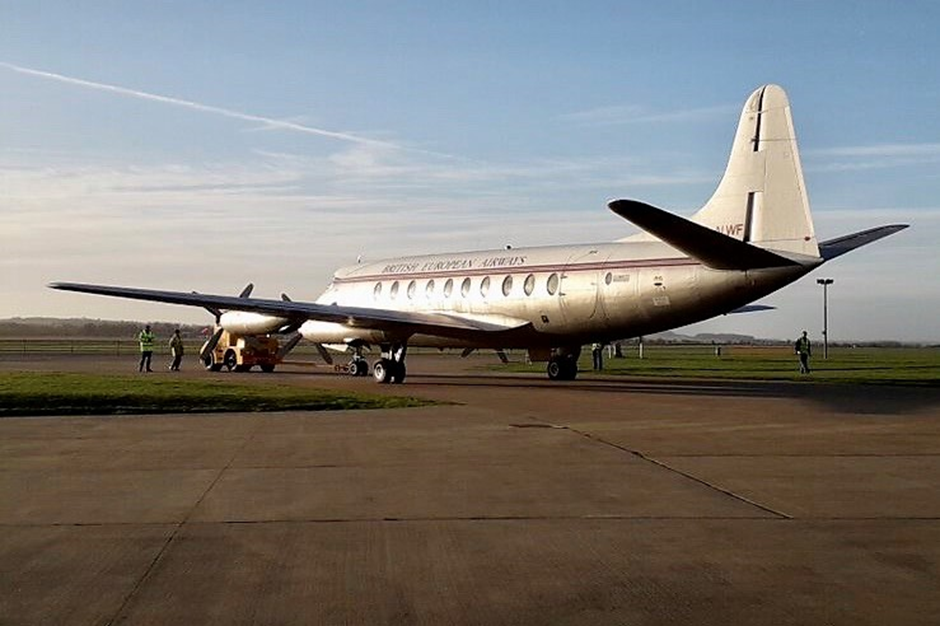 It's hard to believe its now three years since 'WF was towed into Airspace for her repaint. Now attention is turning to the inside of her cabin. For a long time it was evident that the passenger seat covers were suffering fading from the sun and general old age wear and tear. A decision was made to replace the covers. This is easier said than done. Our upholsterer, Ray Wright, has already made up the new foam seat backs and squabs (60 seats) and other DAS volunteers have removed all the chair units from one side of the fuselage. These have been taken to the workshop where they are stripped of the old covers and foams, any necessary repairs/modifications carried out, cleaned, painted and all the moving parts freed and lubricated. The chair unit is then ready for Ray to work his magic making and fitting the new foams and covers. The material for these is very costly so he is taking great care not to waste any. Once Ray has finished each chair it is stored in one of our containers for eventual refitting to the Viscount after the cabin sidewall trim and carpet has been replaced. Once the complete starboard side is refitted we will start over on the port side.
Herald:
As we have already been informed by Peter Archer, our Chairman, and the IWM, our Herald is moving on to pastures new to make room for a new exciting addition to the British Airliner Collection. Details of where she is going and what is replacing her are under wraps at the moment for commercial reasons. We had to lose an aircraft to make space as IWM, due to their own commitments and future plans, could not create any additional parking for our collection and the aircraft on offer is too good to turn down. Work has therefore been going on to get the Herald down off her axle stands so she can be repositioned further down the apron so work can safely commence in dismantling her for transport.
Other Activities
Other work in the pipeline for the DAS volunteers is the annual Airspace big clean. All our airliners together with a number of IWM aircraft will be cleaned and dusted by DAS to keep them looking good as new. This is quite a job as access for scaffolding, cherry pickers etc is very limited plus the museum will remain open to the public throughout the cleaning operation.
That's all for now in this first Maintenance Mutterings, hope you found it interesting and we will bring you another just as soon as there is more news to tell.
Note from Editor
I couldn't resist added a note about another, seemingly endless task, which is taking up my attention. Tracking down leaks on the Trislander! If you have been at Duxford recently you may have noticed that the centre section roof has been covered in plastic sheeting. This is to stop water ingress through the fuselage and we plan on reducing the coverage until we track down the source(s) of the leak.
Just to show what our outdoor aircraft have to endure I attach a photo taken on Wednesday 12th January 2022 showing the frost accumulation over night.
Registered Charity No. 285809