Latest news from the Engineering Team
Added by Keith Bradshaw on 02 February 2022
Welcome to the second edition of our series looking at the work of the Duxford Aviation Society volunteers. First a quick look back at a couple of the major achievements from 2021 made all the more astounding due to regular Covid lock downs and social distancing.
We had for some time wanted to repaint the Ambassador and when the IWM at short notice kindly offered us a week in the Airspace hangar it was all hands on deck to make the most of the opportunity to start the paint job.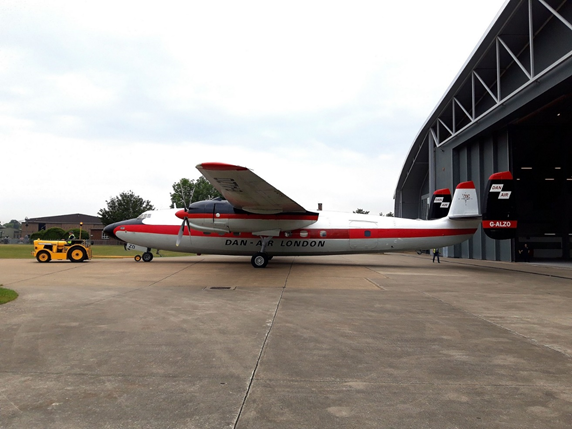 With limited time and limited numbers allowed in the hangar (Covid regs) we knew from the start the job would not be finished in a week. However due to a stirling effort by all concerned she rolled out seven days later with all the top surfaces repainted in white and the tailplane and fins completely repainted. Work then continued piecemeal out on the ramp until she once again looked amazing in a new coat of paint.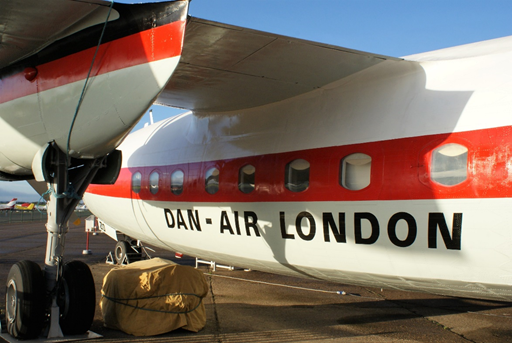 Another long time project which came to end was the refurbishment of the Britannia engine cowlings. This was a much longer job than was originally thought as the cleaning , repair and final polishing of the cowlings took many hours of hard work by a large number of volunteers. Now with the polished cowlings refitted the Britannia looks a picture whenever the sun shines.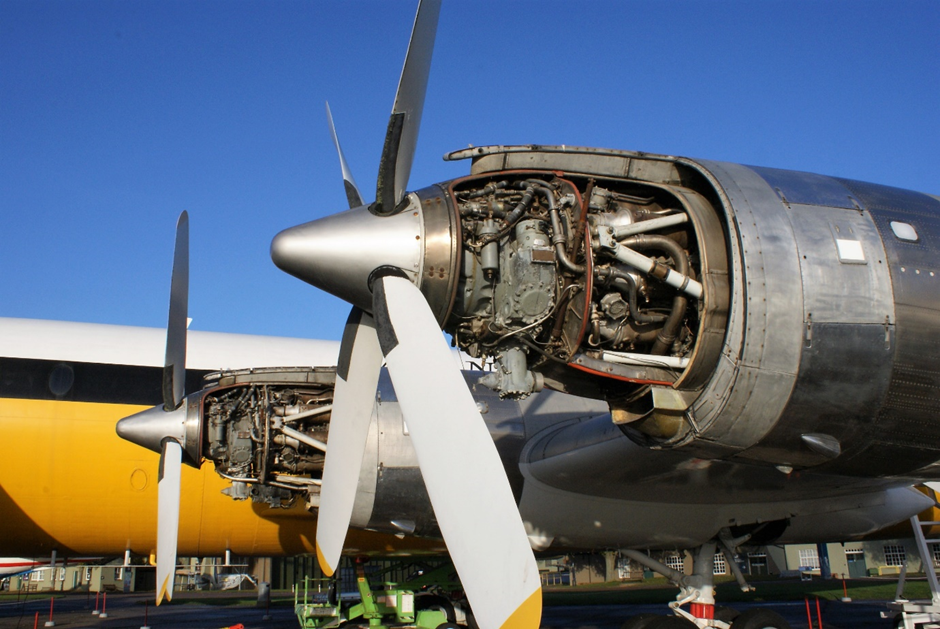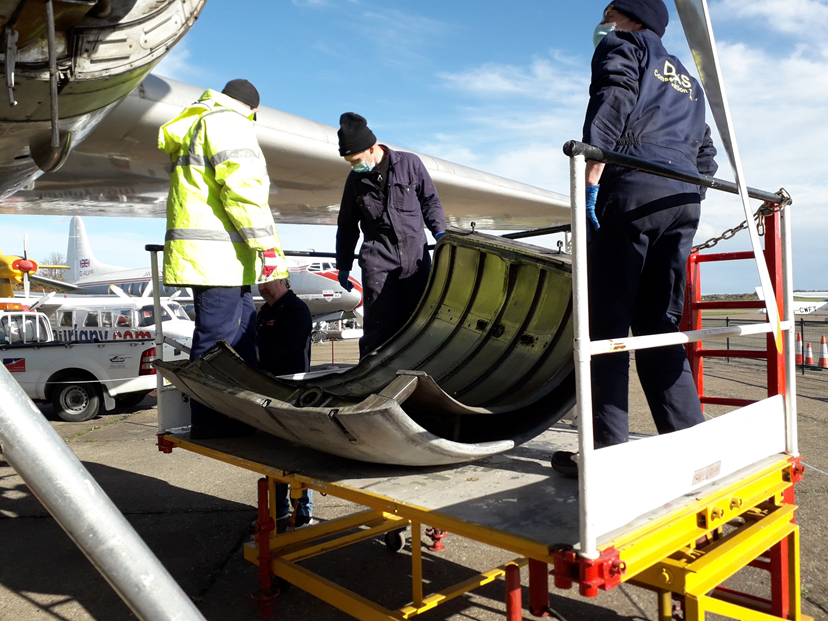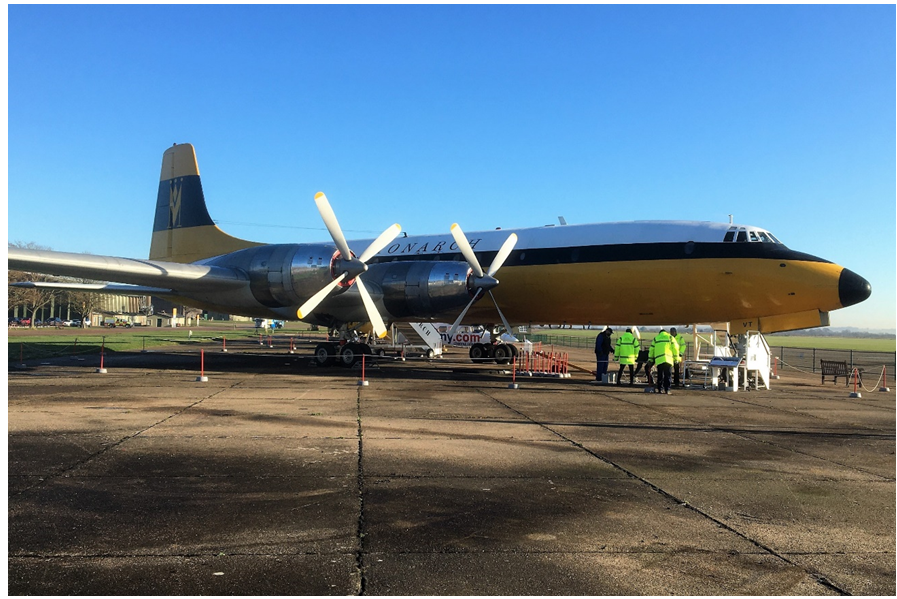 Coming up to date, the Viscount seat project has started with all the passenger seats from the starboard side having been removed. They are having the old seat covering and foams removed before the seat frames are cleaned and repainted.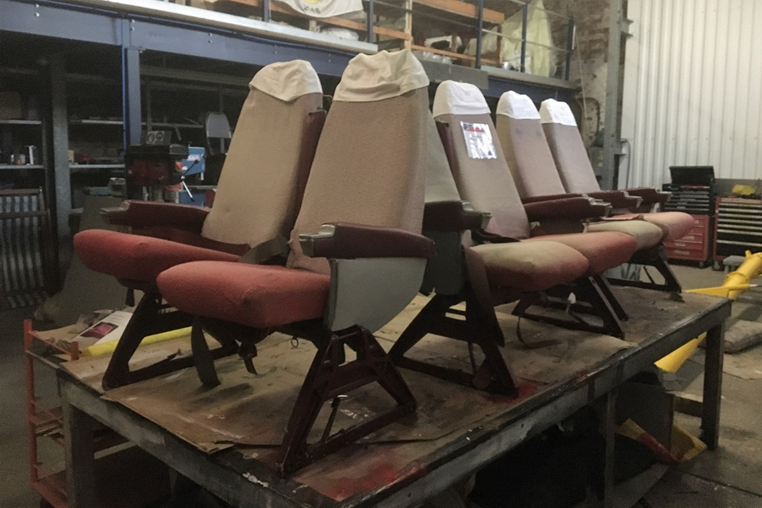 They then go to Ray our upholsterer for new seat foams and coverings (made by Ray) to be fitted. Whilst the seats are out work is going on in the passenger cabin to replace damaged side wall trim and fit new carpet. When the Starboard side seats are finished it will be the turn of the port side. Ray has to make 60 sets of seat covers and foams in total!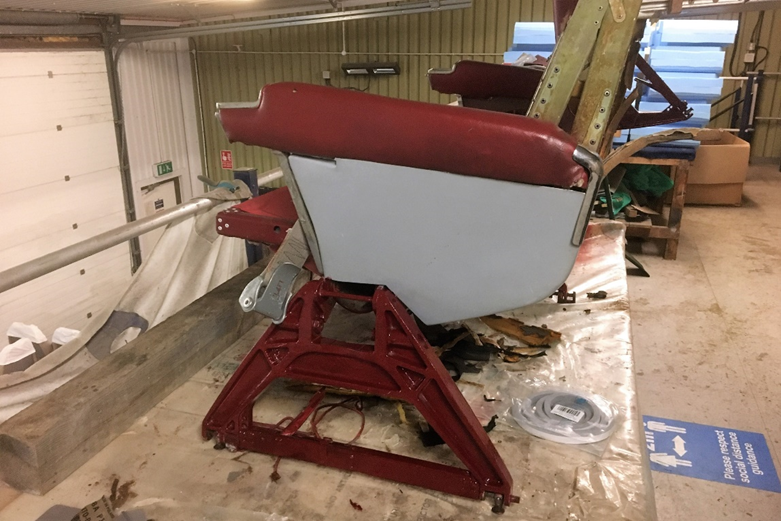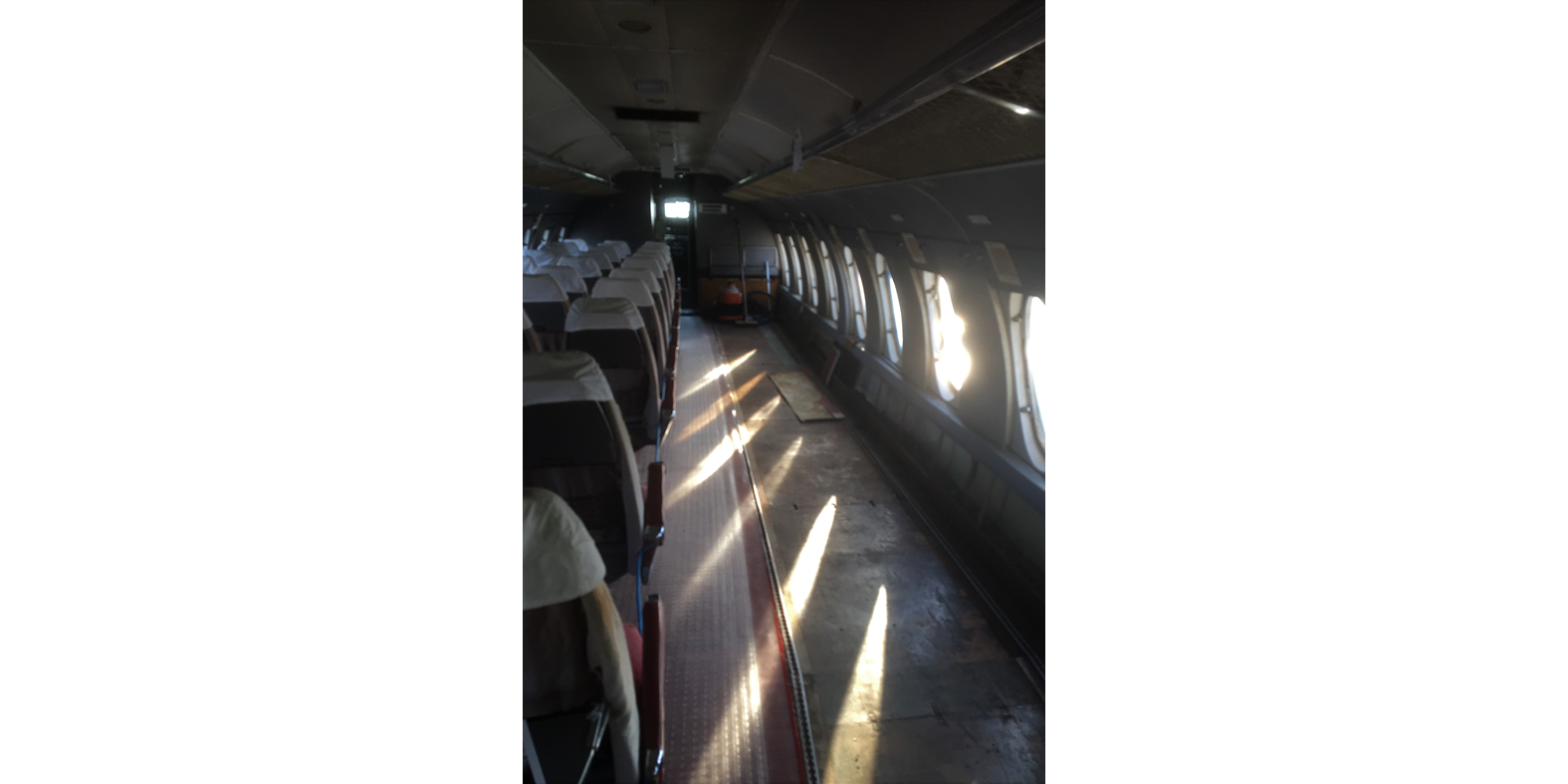 The other big project the volunteers have been involved in is preparing our Herald for dismantling before its shipment to the Morayvia museum in Scotland where it is going on long term loan to allow space at Duxford for our new BAe146.
Work has involved taking her off the axle stands and repairing a cracked undercarriage strut. The props and cowlings were then removed prior to her being towed one last time down the Duxford flight line to the end of the jet pan for dismantling. The final job carried out by the DAS volunteers was the removal of her two Dart engines. After 37 years at Duxford all at DAS will be sad to see her go.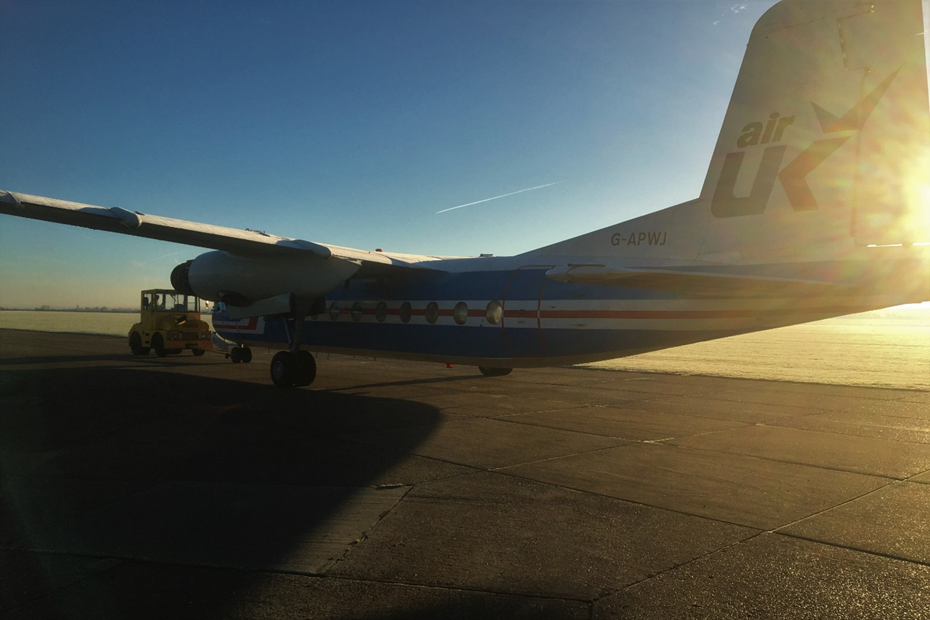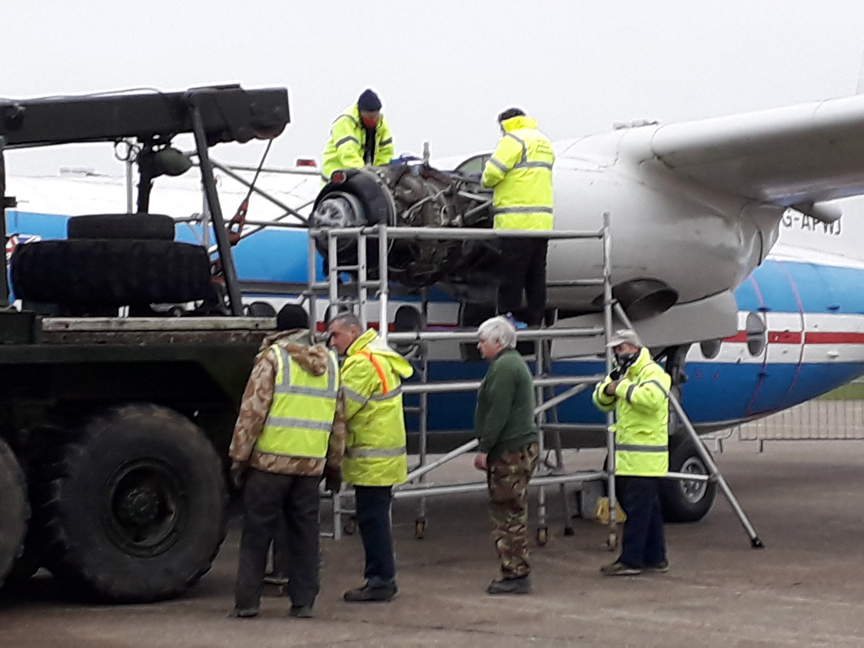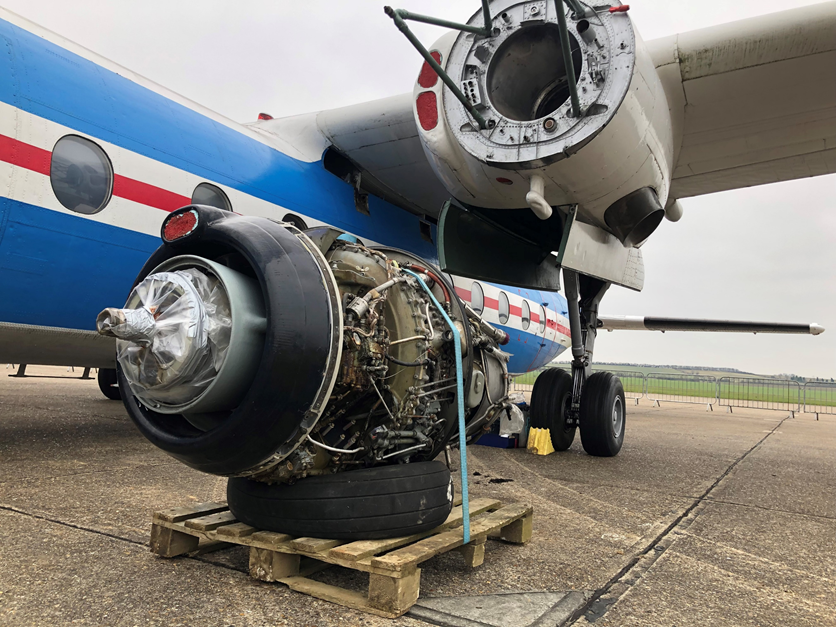 That's it for now, our next article will appear at the end of the month and the next Maintenance Mutterings in the middle of March.
Main title photo: Stuart Stan Matthews
Registered Charity No. 285809