A history of Aviation Traders Engineering
Added by Keith Bradshaw on 26 February 2021
With the rise of many small independent airlines in the 1950s and 60s, there was a demand for companies to carry out major engineering work and checks for those airlines who did not have a dedicated engineering department but only a few qualified guys to cover their day to day work. Companies such as Fields, Marshalls, Airwork and the subject of this article Aviation Traders Engineering stepped up to fill this void with groups of engineers who were doyens of the spanner.
In 1947 a twenty-five year old entrepreneur named Freddie Laker (later Sir Freddie) set up a new company called Aviation Traders Ltd (ATL) at the ex-RAF airfield in Bovingdon, Hertfordshire. The purpose of the company was to trade in war surplus aircraft and aircraft spares. Their forte was converting surplus bombers and transports into civilian freighters, and the company's first big deal was to buy 40 war-surplus Handley Page Halifax bombers with hundreds of tons of spares for conversion into cargo planes.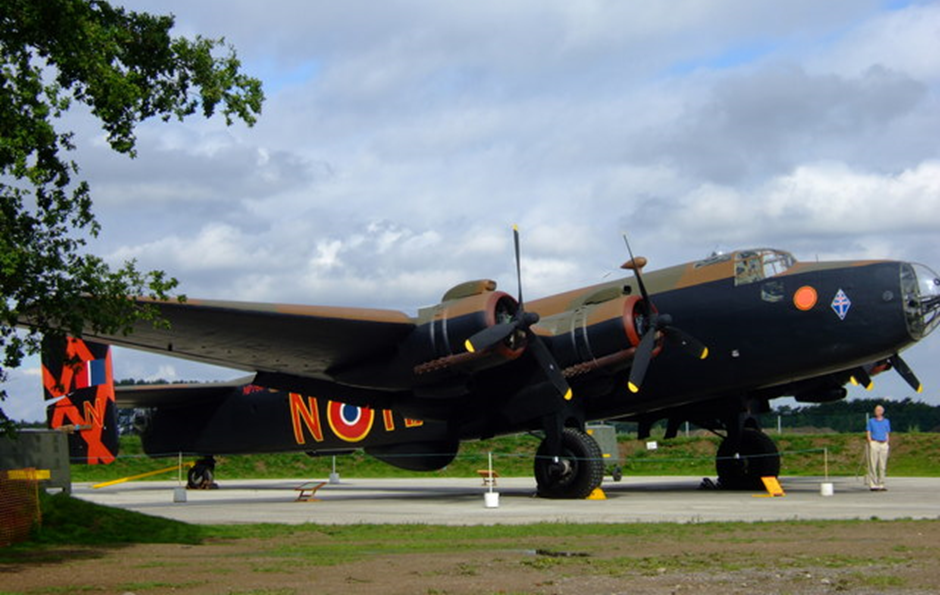 The company only stayed at Bovingdon for a short while before moving to new premises at Southend Airport in 1949. Those Halifax aircraft that had been converted were put to work on the Berlin Airlift with Laker leasing them out and also charging the leaser 50 per cent of any profits made for engineering work. After the Airlift these planes were sold on and those that had been used as spares ships were scrapped. With all this engineering work to cover, in 1949 Laker had set up a subsidiary company Aviation Traders Engineering Ltd (ATEL). Their work had been noted by the Bristol Aircraft Company and in 1951 ATEL was awarded a contract to build the wing centre section for 50 Bristol Freighters. This large contract pushed ATEL into a new league of not just an engineering company but a manufacturer as well. In four short years they had moved from a surplus parts supplier to a new aircraft component builder.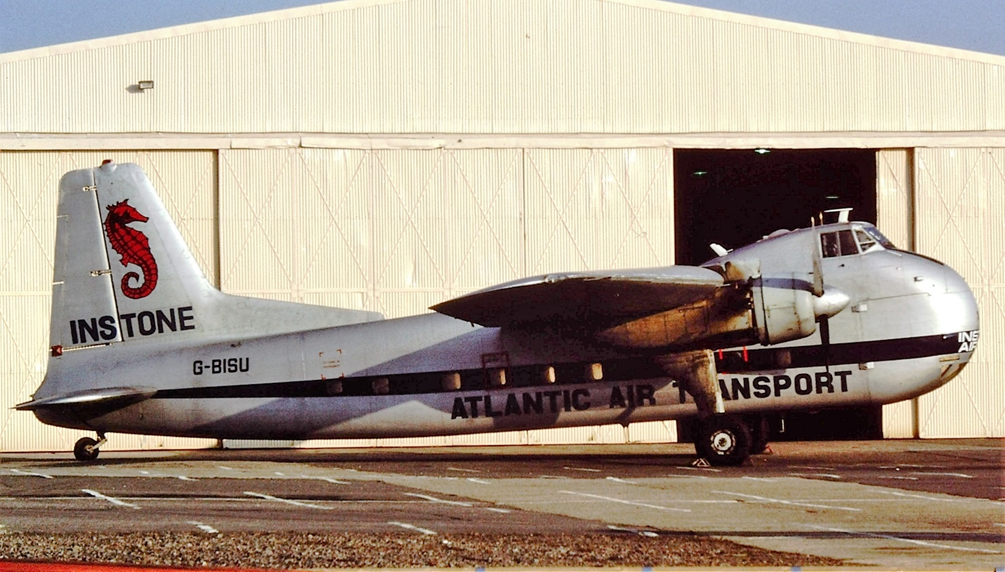 With a foothold in the aircraft manufacturing business Aviation Traders decided in 1953 to have a shot at building a replacement for the ubiquitous DC-3. They were not alone in this dream however as many other companies including UK-based Avro and Handley Page were also entering this market. The 28-seat airliner would be powered by two of the new Rolls-Royce Dart turboprops and there were plans to build a cargo, VIP and larger 42-seat versions. After many changes to the design the ATL-90 Accountant first flew in July 1957 attending its only Farnborough show that September. There was some interest in the new design but up against the competition of the Herald, HS748 and Fokker F-27 coupled with the fact ATL did not have suitable manpower or premises in which to manufacture any large order, the company decided to shelve the project. The Accountant made its last flight in January the following year and was put into storage followed by scrapping in February 1960. So ended ATL's foray into the new aircraft market, but as we will see later they still continued with aircraft conversions.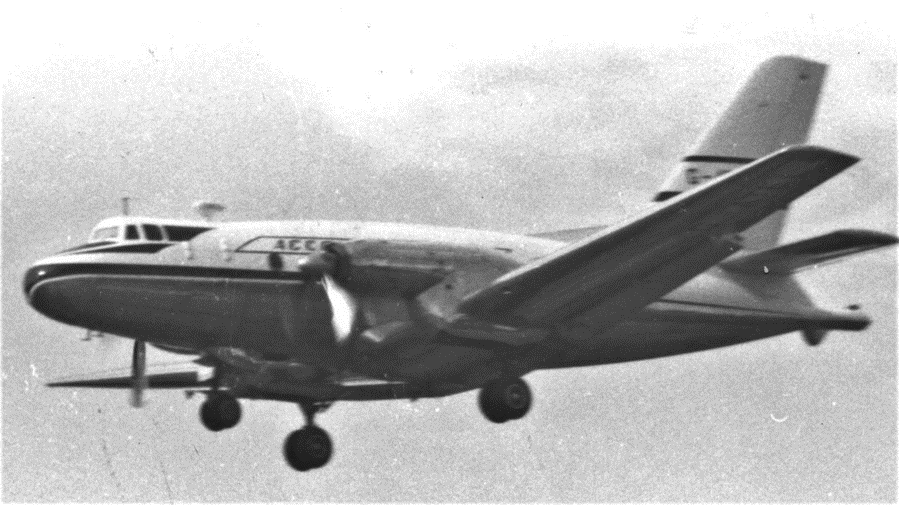 With the demise of the Accountant ATL and ATEL concentrated on their core business of buying old aircraft, renovating or converting them and then selling them on for a profit. They also did similar work for airlines. Other well-used aeroplanes were scrapped for their lucrative parts. Always quick to turn a profit ATEL used parts from non- airworthy Lancasters and several very tired Yorks to make three serviceable York transports which were quickly sold for a handsome profit. With a large number of unloved Avro Tudors available ATEL converted some by adding a large fuselage freight door and with the addition of uprated engines sold them as 'Super Traders'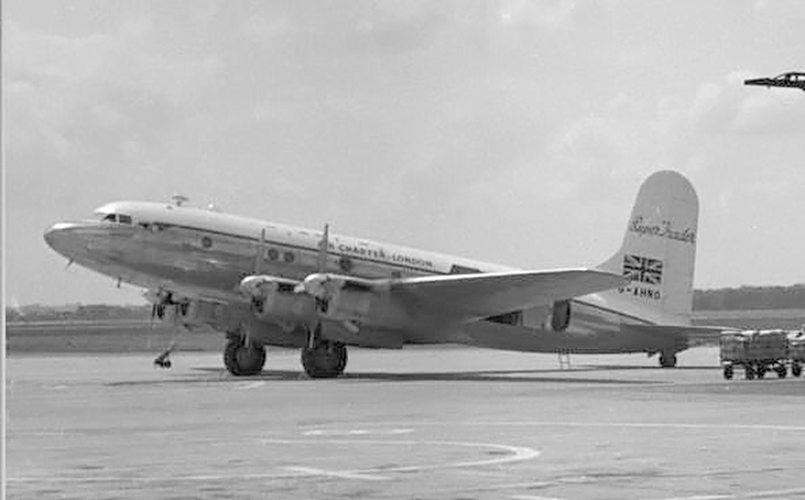 In the mid-1950s ATEL also took on some work from the military when the RAF ended its use of the Canadair Sabres which were on loan via the USAF. Several hundred of these aircraft needed to be overhauled before eventually going to other air arms such as the Italian and Yugoslav air forces. To cope with all this extra work ATEL had opened another base at Stansted. Still with a military angle Laker bought well over 200 ex RAF Percival Prentice trainers with a view to converting them for the private pilot market. In the end very few were actually converted and sold, with the rest being stripped for parts and then scrapped.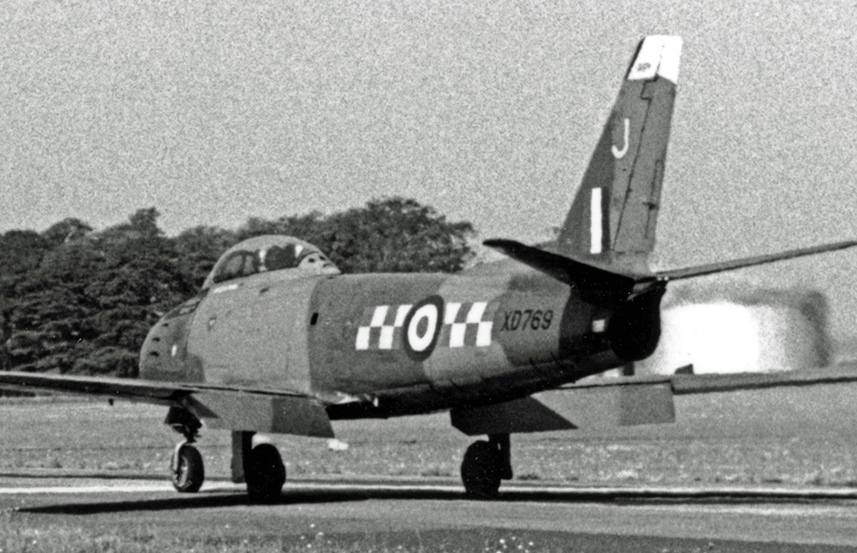 Come 1958 Freddie Laker decided to dispose of both Aviation Traders, ATEL and his airline Air Charter with the Airwork group taking control in January 1959, however Laker remained with ATL as a director. It was around this time that ATL looked at the popular cross-channel air ferry operations that were being operated by Bristol Freighters carrying two or three cars at a time from Southend, Lydd and other South coast airfields across to the continent. There were also routes from Liverpool to Eire. The ATL solution to making these ventures more profitable was the ATL-98 Carvair ( Car-Via-Air). They took a standard Douglas DC-4 and removed the forward fuselage grafting on a new unit with a high cockpit and opening nose door enabling five cars and 25 passengers to be carried each flight. With the nose door of the new design being nine feet off the ground a new hydraulic scissor lift unit was also designed to lift each car up to the nose of the aircraft. (see Heading photo) In all 21 Carvairs would be built and after the demise of the car air ferry service due to regular roll on roll off sea ferries, the Carvairs found another life as cargo aircraft.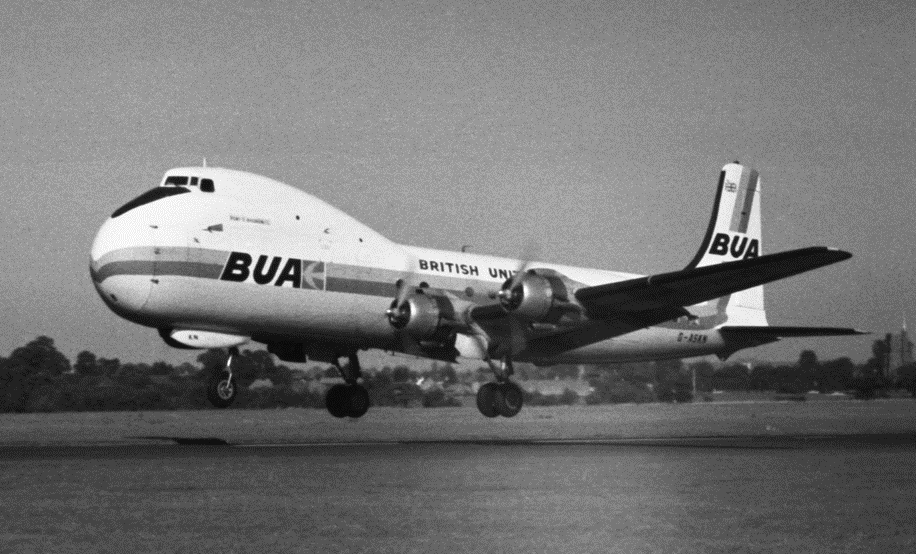 Following their experience fitting large freight doors to the Super Traders it was no great surprise when ATEL continued this work in the 1960s fitting a freight door to a number of Britannias. Their major contract in this area however came from BEA in the late 1960s when they wanted to repurpose their old Vanguards as Merchantmen freighters. ATEL carried out the first and second conversions and then supplied kits of parts to BEA for them to carry out the work at the BEA Heathrow base. After BEA and British Airways use these Merchantmen freighters would fly on for many years with other freight companies such as DHL, Elan and Hunting. ATEL had also cornered the Britannia spares market when it bought up the entire BOAC stock when the company stopped flying the Brit. Many operators sent their Britannias to ATEL for maintenance work or to their great Britannia competitor at Luton, Airline Engineering.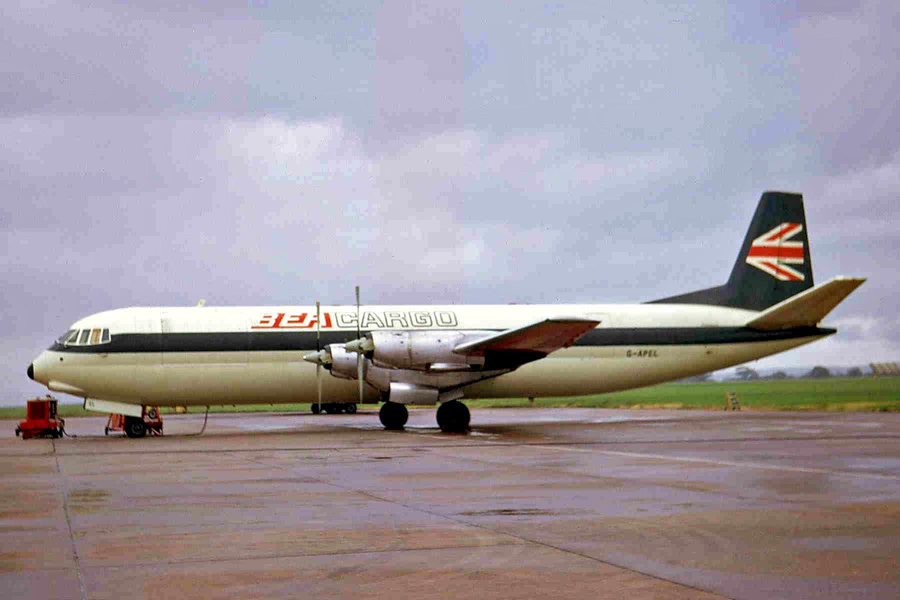 Surprisingly after getting their fingers burnt a little with the earlier Prentice trainer conversions ATEL took a serious look at the large number of early generation jet trainers becoming available, such as the Vampire, with an eye to converting these for the civilian market. Despite some mock up studies the project was cancelled. With their reputation for sound work with Britannias, ATEL was the obvious port of call for operators of the Britannia derived Canadair CL-44 and the big Tyne powered turboprops became a regular sight on the ATEL aprons at Southend and Stansted.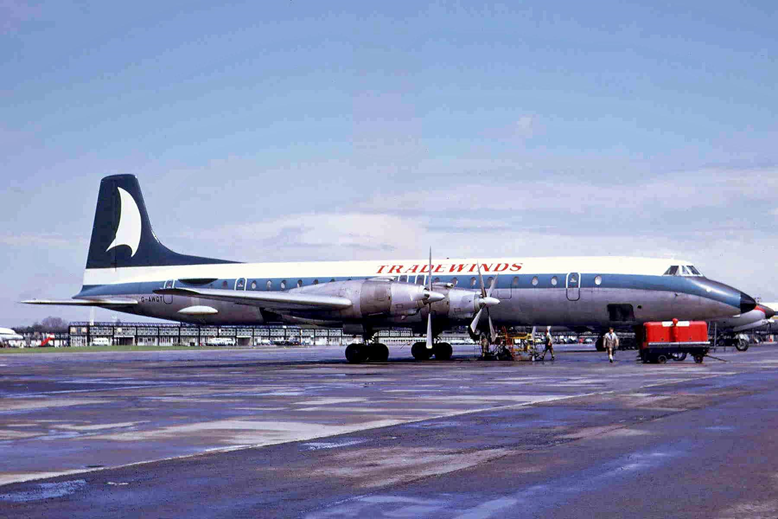 In 1976 ATL's holding company Air Holdings group took the decision to close the Southend base and concentrate all operations at Stansted renaming ATL as Britavia. The Aviation Traders named re appeared in 1996 with an aviation design company based at Hurn. The original Aviation Traders and its engineering arm ATEL will always be remembered for their work at Southend especially the unique Carvair conversions, so let's end with another picture of one of these strange beasts.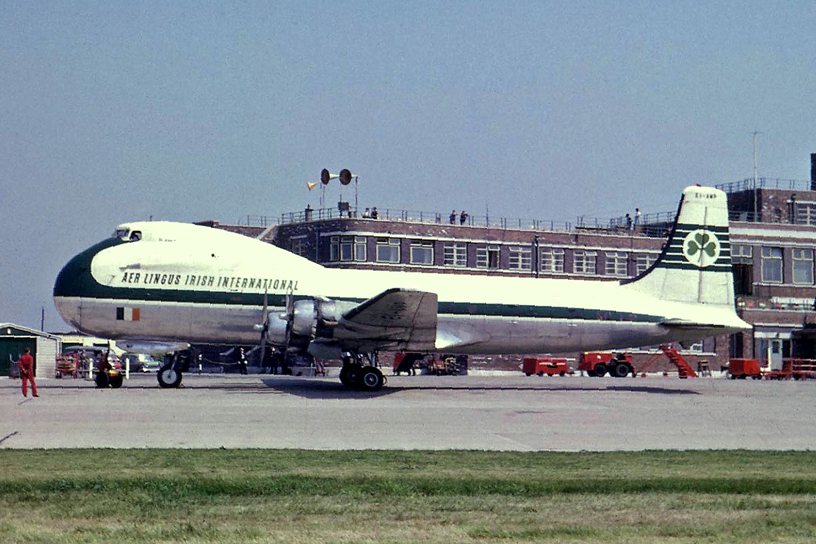 'till the next time Keith
Registered Charity No. 285809