Looking after the Vickers Viscount
Added by Keith Bradshaw on 23 April 2020
Caring for a Grand old lady
Keith Bradshaw tells the story of how the Duxford Aviation Society are maintaining Vickers V701 Viscount G-ALWF, the world's oldest Viscount and most likely the world's oldest turboprop in existence today.
It was a summer's day in 1948 when Vickers' test pilots Mutt Summers and Jock Bryce pulled back on the stick of the first prototype Viscount 630 G-AHRF at the company airfield at Wisley Surrey, heralding in the dawn of the turboprop airliner. Such was the success of this first flight Vickers ended up building 445 Viscounts for delivery to airlines and armed forces all around the world. The original Viscount 630 only carried 32 passengers and was deemed rather slow so after the two 630 prototypes, the next airframe, constructor's number 3 (c/n), had the fuselage stretched and the more powerful Dart 505 engines fitted resulting in the 48-seat Viscount 700 prototype. This was to become the first Viscount production version. The second aircraft on the line was c/n 5 and when the complete aeroplane finally rolled out of the paint shed it was resplendent in the colours of BEA and registered G-ALWF.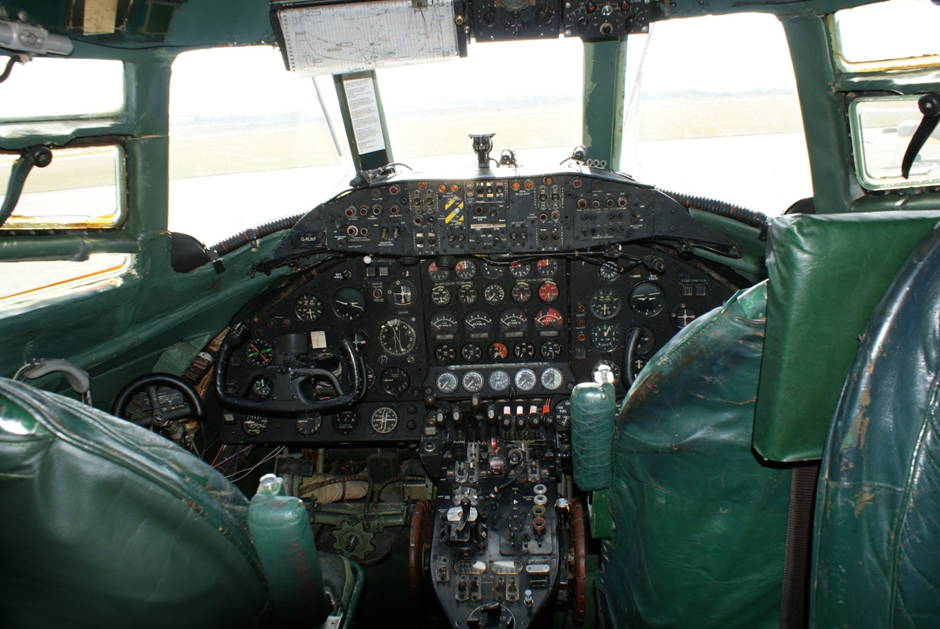 This aeroplane was eventually to become the world's oldest surviving Viscount and would go on display as part of the British Airliner Collection at Duxford. Her first flight from the factory at Weybridge was on 3 December 1952 and two months later on 2 February 1953, she made the short hop to her new home with BEA at London Airport. She was then used along with other early delivery Viscounts on crew training and proving flights. It was not until 18 April 1953 that the world's first scheduled turboprop service commenced when sister ship G-AMNY flew the London Airport-Nicosia route, with 'WF flying the second service. She was originally fitted out with just 40 first class seats in a 2+2 configuration.
In December 1954 'WF was engaged on crew training flights at Blackbushe when an undercarriage leg collapsed on landing. The aeroplane was dismantled and shipped to Marshall's of Cambridge for repair, little knowing her final resting spot would eventually be just down the road at Duxford! The following year 'WF along with the other early V700 Viscounts were re-engined with Dart 506 engines to bring them up to the same standard as later Viscounts delivered to BEA. This conversion saw them being re-marked as Viscount V701s.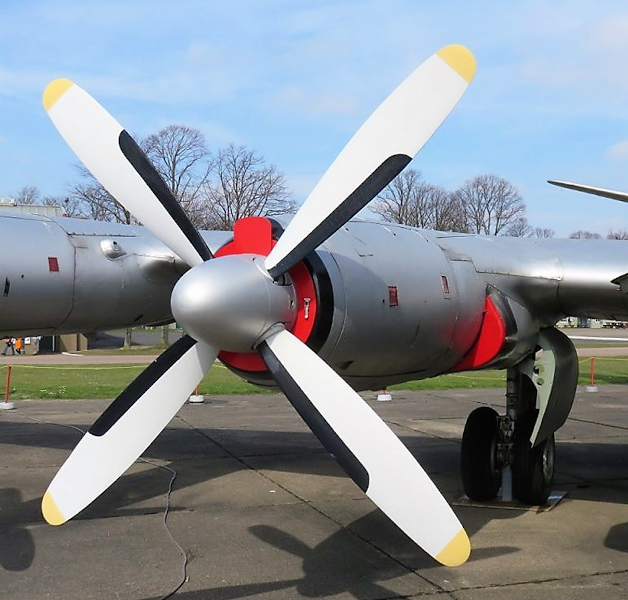 A few years later in 1959, BEA fitted two extra cabin windows at the rear, removed the rear galley and fitted 60-63 seats in a 2+3 high-density configuration. By 1960 she was repainted in the new 'Red Square' BEA scheme. However with newer Viscount 800 series being delivered, the 701 fleet was being sold off and 'WF left BEA on 6 December 1963 for a new life with Channel Airways. During its two-year stay with Channel it was leased out for a time to both Tradair and British Eagle before being sold on to Cambrian Airways in December 1965 as a replacement for their ageing DC3 Dakotas.
After another trip to Marshalls for overhaul she was delivered to the Cambrian base at Cardiff (Rhoose) from where she flew for the next six years. The Welsh airline was partially owned by BEA and in 1967 they absorbed Cambrian and BKS Airlines into the BEA owned British Air Services, the Cambrian planes now carried this titling on their cabin roof. By the early 1970s BEA was retiring its Viscount V800 fleet and these larger aeroplanes were passed down to Cambrian and BKS as replacements for the old V701s. The end had come for 'WF and on Christmas eve 1971 she made her last commercial flight from Belfast back to Cardiff. Realising that she was now the oldest Viscount in existence Cambrian made efforts to have her preserved and eventually she was acquired by the Viscount Preservation Trust for display at Liverpool. Thus on 12 April 1972 she made the short hop to Heathrow to pick up VIPs before taking off for her final flight to Speke. On arrival she had flown over 7 million miles with 25,938 landings. After 19 years of flying her registration was finally cancelled on 18 April 1972 at which time Cambrian removed a number of items to help keep their remaining V701s in the air.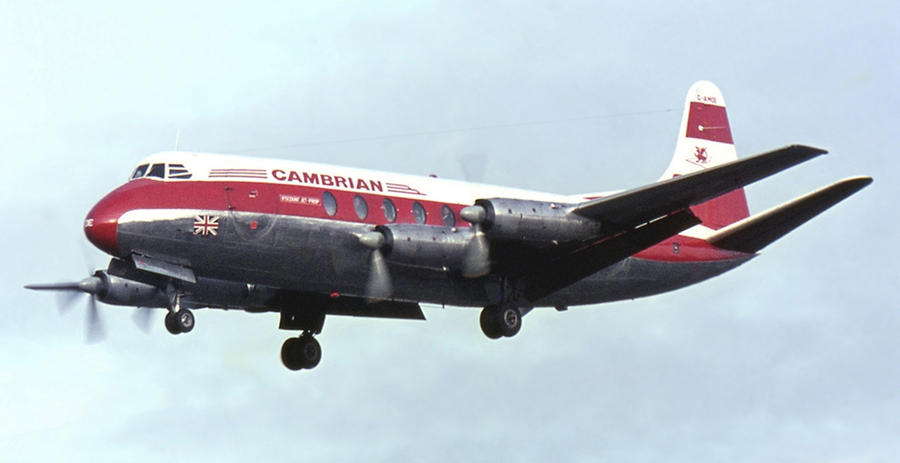 At first she was kept in a hangar at Liverpool and from December 1972 the airport management permitted regular public access allowing 4,000 people to take a tour. In 1973 new security regulations brought this access to an end and to make matters worse she now had to be parked outside. Around this time Cambrian were still operating two V701s on lease to BOAC and they revisited 'WF and removed both the outer wings for use on Viscounts still in service. The future for the world's oldest Viscount looked bleak.
In 1975 an arrangement was made with the Duxford Aviation Society to loan the aeroplane to them for restoration and display as part of their British Airliner Collection. Thus every weekend from November 1975 to January 1976 a party of DAS volunteers would make the 200 mile journey to Liverpool to dismantle 'WF. The first lorry load bringing the fuselage home arrived at Duxford near Cambridge on 22 February 1976 and the airframe was formally placed on loan to DAS for 99 years.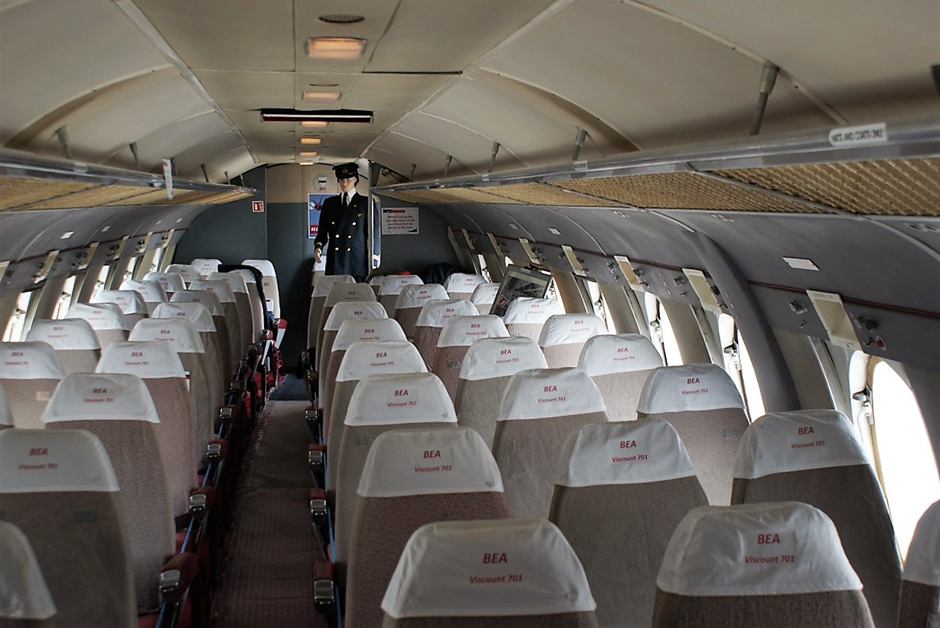 Work commenced to source all the missing parts including most of the cockpit instruments and deal with the many corrosion issues that had arisen from sitting outside next to the salty Mersey for two years. Alidair Airlines kindly donated two time-expired outer wing units and other parts were obtained from a number of sources including British Air ferries who bought most of the remaining retired British Airways Viscounts. All the work to the airframe had to take place outside as there was no spare hangar space at Duxford. Ten years later, in 1986, after much hard work by all the DAS volunteers in general, and a small hard core in particular, she was again back in her original BEA livery looking like she had just rolled out of the assembly shop at Weybridge. It was hoped she would find a place inside the new AirSpace hangar being built at Duxford but sadly this was not to be and to this day she has been parked outside alongside other iconic British airliners.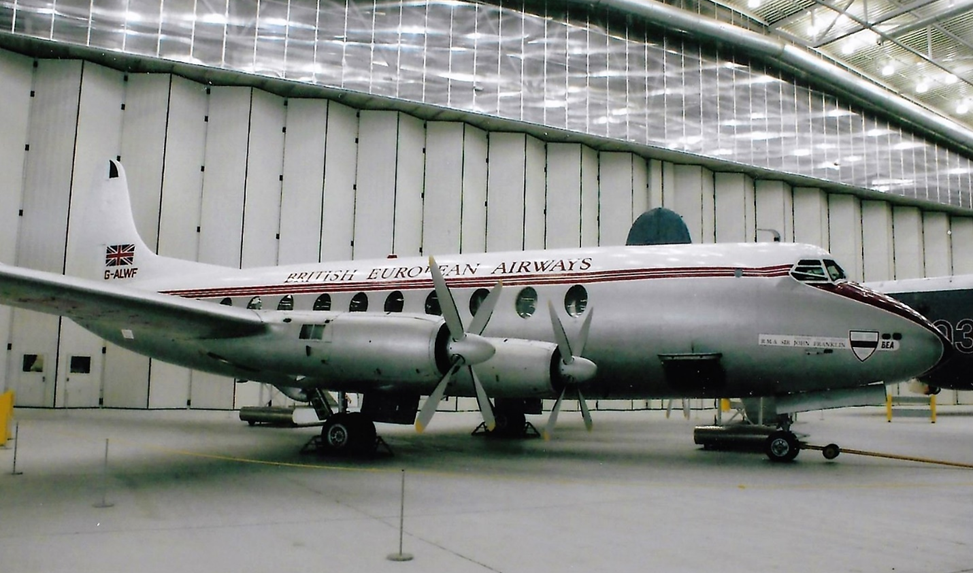 In 1993 to celebrate 40 years since the first Viscount commercial flight, British Air Ferries flew one of their 800 series Viscounts, G-AOYN, up to Duxford with a cabin load of aviation enthusiasts. For a short while 'YN shared the ramp next to her older sister 'WF. This would be the last time two Viscounts would be together on the Duxford apron. A milestone was reached in 2011 when the Viscount Preservation Trust formally handed over ownership of 'WF to the Duxford Aviation Society.
Although the restoration was finished back in 1986 the work required to keep her looking good and display her to the public continues relentlessly. Just last year she entered the hangar for ten days to allow the Duxford Aviation Society volunteers to completely repaint her again in the original BEA scheme in which she was delivered back in 1953. Being parked outside next to the M11 and the constant East Anglian wind plays havoc with the paintwork. Despite regular washing and polishing the paint had faded to the point where DAS decided to carry out a repaint, the fourth one since she arrived at Duxford back in 1976. It was only due to the excellent planning and the continual commitment of all the volunteers that such a big job was completed on schedule and she could again hold her head up high in the airliner collection.

It is not just paint that the weather affects, but after a long period of time sitting in the sun the windows and tyres also start to suffer. During the tow to the hangar for the repaint there was great concern that some of the tyres would not survive the strain, however all was well. A project was then put into operation to find some new tyres for 'WF. After a lot of searching and head scratching a source in the Netherlands came up with the goods and now thanks to a specialist tyre fitting company in Bedfordshire we have her sitting on a shiny new set of tyres. To further alleviate the wear on the new set, one of the DAS volunteers has made up a set of axle stands for her to sit on to keep the weight off the tyres. This was so successful he is now kept busy welding up sets for the rest of the airliner collection.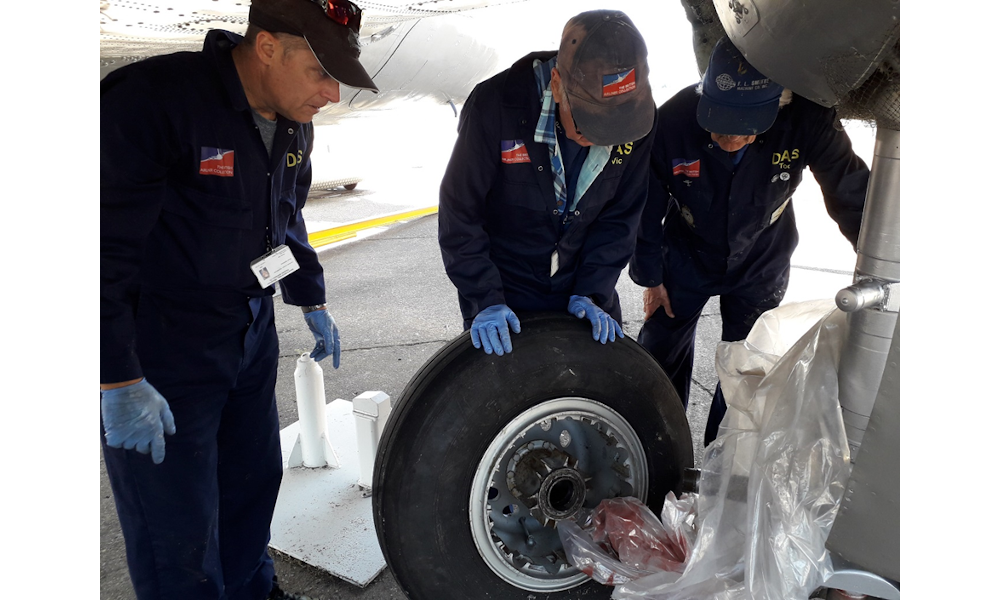 To keep the birds from nesting in the engine jet pipes, a new set of blanks have been made. The passenger steps have also been overhauled and repainted to match the smart aeroplane. Every year the flaps are lowered to allow the mechanism to be cleaned and re- greased. This would be easy if we could run an engine to provide hydraulic power but as this is not possible 'Plan B' has to be used. This involves lifting the cabin carpet, removing an access panel from the floor and then fitting a turning handle directly into the flap mechanism gearbox. 444 turns later the flaps are down, just another 444 to bring them back up again!
As mentioned earlier the sun has done its best to cloud the cabin windows so some of them need replacing. We are lucky to have a container full of Viscount parts including a few 'new' windows. However when they were taken out of their packaging the wax paper they were wrapped in was found to have stuck itself to the Perspex. It was also apparent these 'new' windows were not in the best of condition. Further pain was added when they were found to be 800 series windows which are slightly different to those for the 700 series Viscount! Not to be put off, a lot of work has gone into preparing one of these windows and with some persuasion it has now been fitted in place. The window replacement project will definitely be a long, ongoing one.
Work also continues on the interior with new headrest covers having been made and fitted following a generous donation to cover their cost, also the cabin displays of artefacts and memorabilia from the BEA Viscount days are always being refreshed. Sadly we had to lose one of the crew when mannequin steward Steve, who was positioned at the rear door, was found to be scaring young children so he was removed back into the shipping container prior to promotion as a pilot on the Comet! With so many people passing through her on open days and the various filming operations, damage has occurred to some of the seat side panels. These are now being replaced with aluminium ones made by one of the volunteers.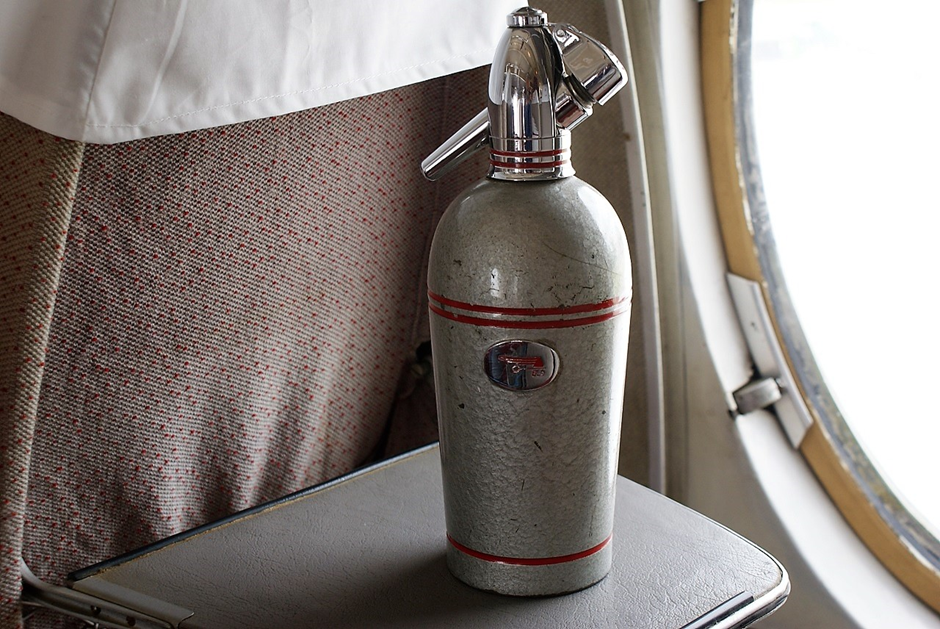 With such an original interior, 'WF has been a star in several films and TV series. In recent times she has featured in the Netflix series The Crown and also starred in a yet to be released cold war spy movie. However back in her flying days with BEA, a film Out of the clouds was made based at London Airport in 1955. The opening title sequence shows air to air shots of a BEA Viscount which lands and taxies nose on to the camera displaying WF large and proud on the nose.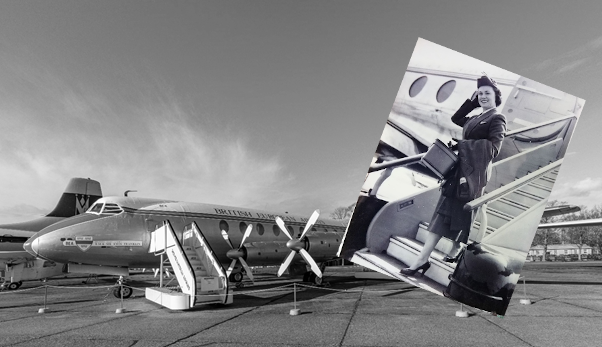 With her constant need for attention being met by a dedicated Viscount team led by John Overhill, who kindly assisted with this article, and the DAS volunteers in general, the future looks rosy for the world's oldest Viscount. A grand old lady indeed.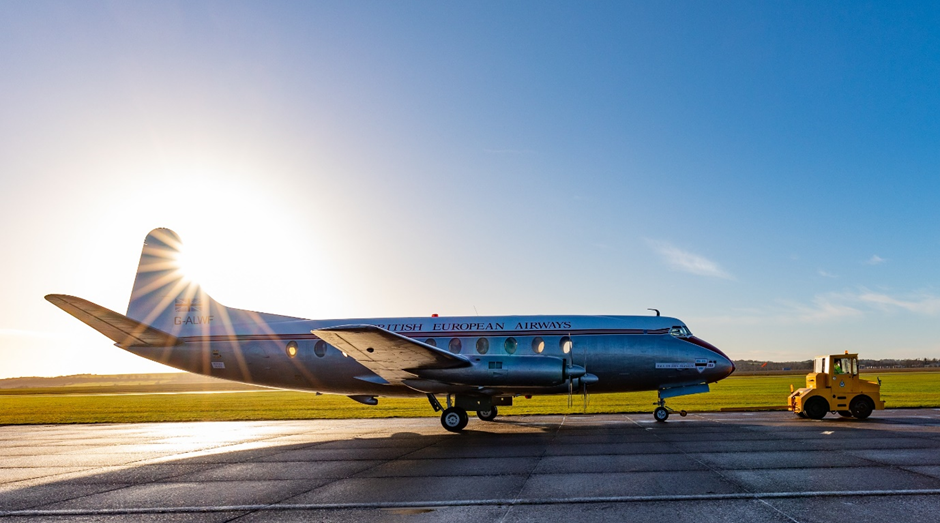 'till the next time Keith